Students at SolBridge can make use of the resources available at SolBridge Library and several branch libraries located on Woosong University campus.
The current holding of SolBridge Library is over 7,300 volumes and includes books, e-books and periodicals on management, finance, economics, marketing, IT and other business related disciplines. In addition, reference and general-interest materials are available including leading foreign business periodicals and multilingual dictionaries. Students can consult books which are mainly in English. There is a separate section on Korean books covering a wide range of topics.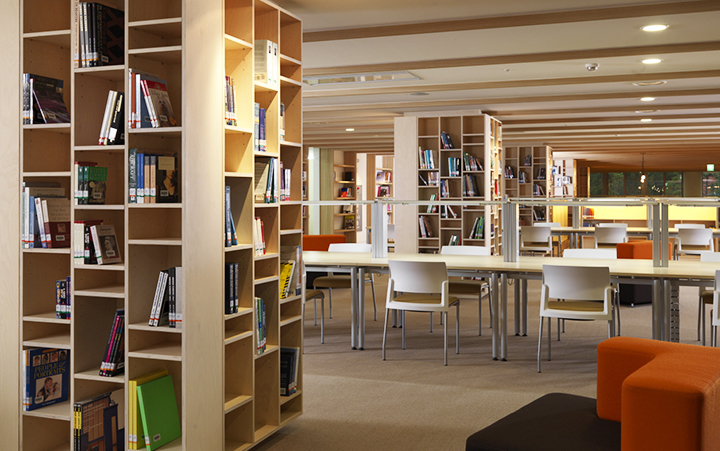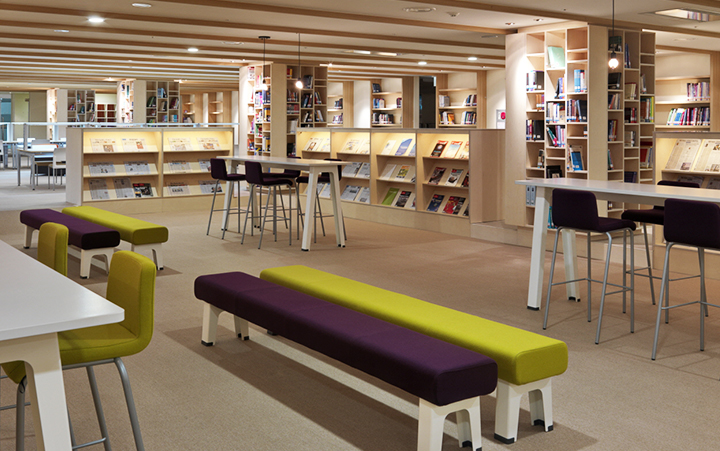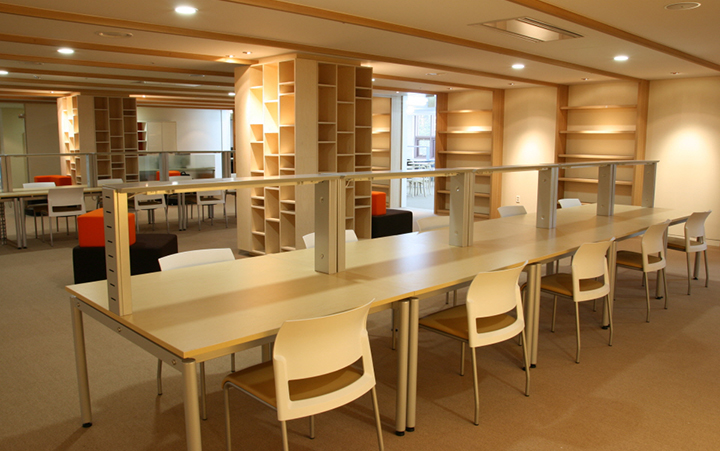 ---
Location
2nd Floor, SolBridge building
---
Opening Hours
Fall & Spring Semesters
Summer & Winter Terms
Monday-Friday
Saturday
Monday-Friday
Saturday
9AM-10PM
9AM-1PM
9AM-9PM
9AM-1PM
Closed on Sundays and holidays.
---
Book Loan Policy
Membership
Loan Limit
Loan Duration
Loan Penalty
BBA Students
5 books
10 days
Failure to return material by the due date will trigger a temporary suspension of borrowing privileges
MBA Student
5 Books
2 weeks
Books borrowed may be renewed once prior to the due date.
---
AMENITIES
Scanner: A scanner located within the library premises is available free of charge. Students may approach the loan desk for assistance.
Photocopier: Located in the library, all students are expected to comply with the applicable copyright laws of the Republic of Korea.
Printer: Available for student use in the library.
Audio-Visual Resources: DVDs can be viewed only in the library and must be returned the same day. Headphones are available for loan and can be used only in the library. Students must present and leave an ID card (i.e. SMART Card) at the time of borrowing; the ID card (i.e. SMART Card) will be given back upon returning the AV material.
Computers: Equipped with high-speed internet access, available for student usage on a first-come, first-served basis.
Purchase of Print Cards: Students can purchase print cards from Student Services on the 5th floor. If there is any problem with the print card, students are advised to contact the corresponding Student Services staff members for a possible replacement.
---
LIBRARY CLASSIFICATION
Library materials are classified according to the Dewey Decimal Classification System. There are four sections in the library: Open stacks, Reference, Course Reserve, and the Drucker Collection.
Open Stacks: Books in Open Stacks are available for loan as per the rules specified in the book loan policy.
Course Reserve: Only for use in the library. Not available for loan.
Reference: Only for use in the library. Not available for loan.
Peter F. Drucker Collection: This section includes books written by Peter F. Drucker. The books were donated to SolBridge by the Peter Drucker Society of Korea in October 2011 and are available for loan.
---
MEMBERSHIP
SolBridge students can use the library resources and services. In addition, they can also borrow books from Woosong branch libraries. The same library policies apply across all campuses.
Books must be returned to the same library they were borrowed from.
Library Card: The student ID card (i.e. SMART Card) serves as a library card. Students must present their SolBridge ID card (i.e. SMART Card) for all loan and return transactions of library material.
E-Resources: Information about the library and its resources can be accessed online through: http://library.wsu.ac.kr
---
RESEARCH DATABASE
The library currently subscribes to Science Direct, Emerald, SAGE, Wiley Online Library, JSTOR, EBSCOhost, and Euromonitor International. In order to access a database, please click on the respective database icon in the list on the bottom of the page.
To access the journal articles, books, and periodicals off-campus, please follow the instructions below:
Go to Woosong University library website: https://library.wsu.ac.kr/
Switch to English language [ENG] in the top right corner of the website.
Press [LOGIN] button and log in using your SolBridge student ID and password.
If presented a message that "The information you're about to submit is not secure", press [Send anyway].
Go to [E-Resources] → [Foreign DB], pick the database, and embark on your research journey.
---
OPAC (Online Public Access Catalog)
If you click on this link, it will take you to the Woosong Digital Library webpage (http://library.wsu.ac.kr). By default, it will take you to the Korean webpage. Select the English language option on the top right-hand side of the screen. You will find the "Search" tab on the top left hand side. By clicking on this tab, you can search the catalog. This search includes the catalogs of SolBridge and Woosong Libraries.
---