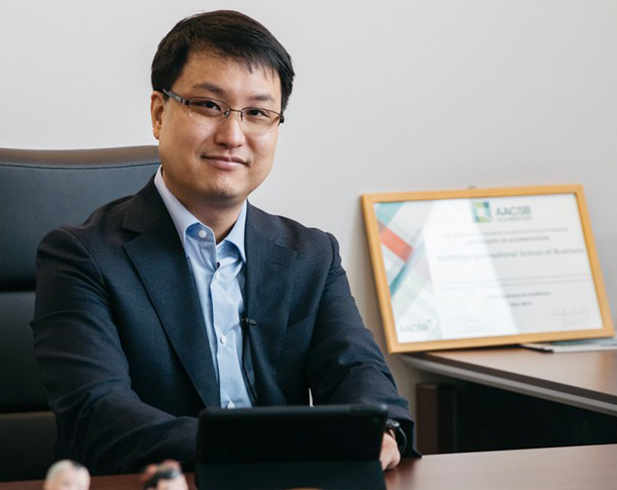 Dean Hamid Bouchikhi
Dr. Bouchikhi was the Co-Chair of the Management Department and Director of the Entrepreneurship Center at ESSEC Business School, France, one of the leading business schools in Europe.
Dr. Bouchikhi was born and received his BA (Hons) in Morocco, obtained his Masters and PhD degrees in Management from Paris Dauphine University, France. He joined ESSEC in 1990 as a Professor of Management and Entrepreneurship and founded the Entrepreneurship Center.
His research is in the fields of organizational theory, entrepreneurship and managerial innovation with over 100 academic publications including journal articles, books, edited books, book chapters, and conference presentations.
Dr. Bouchikhi was a Visiting Professor at Keio University in Tokyo, the Graduate School of Management at Universiti Putra Malaysia, and the Wharton School of the University of Pennsylvania.
---
Our leadership
Led by the Dean, the Executive Committee sets and executes the strategic direction of the school, in close coordination with governance bodies.
Hamid Bouchikhi

Dean
Chair of the Executive Committee

BI (Byung-Ik) Jung

Director Graduate and Non Degree Programs
Director of Administration
Secretary of the Advisory Board

Han Choong Min

Associate Dean of Faculty and Research

Yong-Sang Lee

Associate Dean,
Korean Admissions and Career Services

Joshua Park

Associate Dean,
Undergraduate studies

Jae-Sig Kim

Associate Director of Administration

Jae-Ryong Yang

Director Korean Admissions

Chang-joon Choi

Director of Corporate Relations & Outreach

Han, Joon Ki

Director, Career Development Center

Sung-Hyuk Park

Director of SolBridge Entrepreneurship Center
The mission of SolBridge Advisory Board is to advise the dean and the executive committee on key strategic and managerial issues.
Chairman Kim Sungkyung

Chairman

Dr. John E. Endicott

President and Vice Chancellor,
Woosong University

Dr. Dal Yeong Lee

Chairman, Woosong Educational Foundation

Hamid Bouchikhi

Dean

BI (Byung-Ik) Jung

Director Graduate and Non Degree Programs
Director of Administration
Secretary of the Advisory Board

Salvador Carmona

Distinguished Visiting Professor
Dean for faculty affairs & Rector, IE University

Dipak C. Jain

Honorary President, Woosong University

Frank Mulhern

Distinguished Visiting Professor
Associate Dean of Medill School of Journalism, Media, and Integrated Marketing Communications Northwestern University