Located in Korea's Silicon Valley Daejeon, SolBridge prepares students to be the Next Generation of Asian Thought Leaders in the fast growing and rapidly changing Asian economy. SolBridge is unique among business schools for several reasons:
Fully English-taught curricula / degree programs.
Chinese, Japanese or Korean language courses for full-time students.
80% international faculty, with degrees from prestigious universities.
International business model teaching methods.
Diverse academic and cultural programs with a strong focus on Asia.
An international student body representing 64 different nationalities / countries.
A balance between theory and practice through immersion programs, special lectures, workshops, and internships.
The Career Advisor Program (CAP) designed to provide students with academic guidance for preparing career plans.
The CEO Mentoring Program designed to connect students to the corporate world and leading experts.
The Asian Thought Leaders' Case Competitions providing an opportunity for students to challenge their business skills.
One of the world's youngest business schools to receive the AACSB accreditation.
---
Vision: To be an Asian Center of Excellence in Global Business Education

Mission: Educating the Next Generation of Asian Thought Leaders
---
Our Objectives
We are dedicated to producing top business leaders in Asia and the world in all fields: business, politics, the military, and social activism, who will be prepared to be instruments of change in their respective societies. We do not focus only on the "hard skills" needed for such an undertaking, but also on the critically important "soft skills" that provide flexibility, understanding, and interpersonal leadership skills that will help in many environments.
SolBridge offers both undergraduate and graduate degree programs in business focusing on Asian business and its relation to the rest of the world. We are committed to providing:
An integration of business knowledge with a focus on Asian economies and their evolving relationships.
Student internships with leading-edge technological businesses.
A global perspective in teaching and research in the most dynamic arena of the world economy.
In-depth exposure to languages and cultures of East Asia.
A multi-cultural environment in an English language medium.
---
Who is an Asian Thought Leader?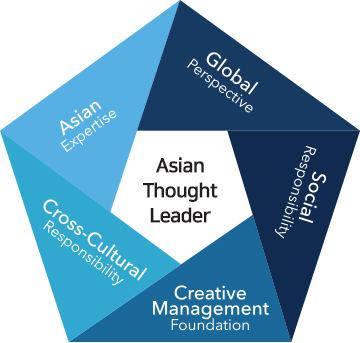 An Asian Thought Leader is someone with Global Perspective, Asian Expertise, Cross-Cultural Competence, Creative Management Foundation and Social Responsibility (GACCS). Through research and scholarship, we seek to contribute and enrich the understanding and practice of management within the for-profit, not for-profit, and governmental environments. Through our teaching, learning, and engagement with the business world and the support of our staff, we aspire to ensure our faculty and students acquire:
Global Perspective: Knowledge of global markets, business practices, and cultural norms between business in Asia and other parts of the world.
Asian Expertise: Knowledge of Asia by articulating the differences and similarities among their individual cultures, best business practices, legal requirements, and economies.
Cross-Cultural Competence: Awareness of one's own cultural values and beliefs, an awareness of other cultures, values, and belief systems, with the ability to effectively communicate and function in multicultural settings.
Creative Management Foundation: Broad understanding of management principles and the ability to analyze situations to select the best solution or to identify, derive, and deliver a new alternative solution.
Social Responsibility: Ethical behavior in decision making in and beyond the organization within the context of varying cultural constraints. Articulates the necessity for organizations to be environmentally and socially responsible.