In order to make your journey to SolBridge more comfortable, we have prepared the following guide for students travelling to Korea for the first time. Please plan your travel arrangements so that you arrive in time for the Team-Building Orientation program.
SolBridge Student Services will run the Airport Meet-Up & Bus Terminal Pick-Up Service Friday-Sunday prior to orientation week. Once you sign-up, SolBridge students will meet you at the airport arrivals gate, help you with your luggage, foreign currency exchange (if needed), bus ticket purchase, and boarding the bus to Daejeon. When you arrive in Daejeon, SolBridge students will assist you in getting a taxi to the residence hall.
---
We strongly recommend that you plan to arrive at the airport during day-time as there will be more people around to help you in case you need assistance. Please check the weather forecast for Korea before you travel to ensure that you are dressed properly for your arrival.
Changing Money
Please bring at least the equivalent of US $200 cash with you. You will need to have some local currency to buy a bus ticket and make phone calls. It is a good idea to purchase Korean won at your departure point if you are arriving between 9 PM and 8:30 AM. Money changers at Incheon International Airport are located near the exit doors of the customs clearance area and are closed from 9 PM to 8:30 AM.
Daejeon Bus
Taking a bus from the airport is the most convenient and cost-effective way to reach Daejeon. You will find ticket counters that sell bus tickets (buses are called airport limousines) inside the airport terminal building and outside, near the bus stop.
Bus Ticket Counters
Tickets to Daejeon can be purchased at the Regional Bus counters between Exit 9 and 13 at Terminal 1 and between Exit 1 and 2 for Terminal 2 as indicated in images below;
When you buy your ticket, be sure to ask for the seat number. Most ticket sellers speak some English and each ticket is for a specific seat on the bus. The seat number is also printed on the ticket.
Terminal 1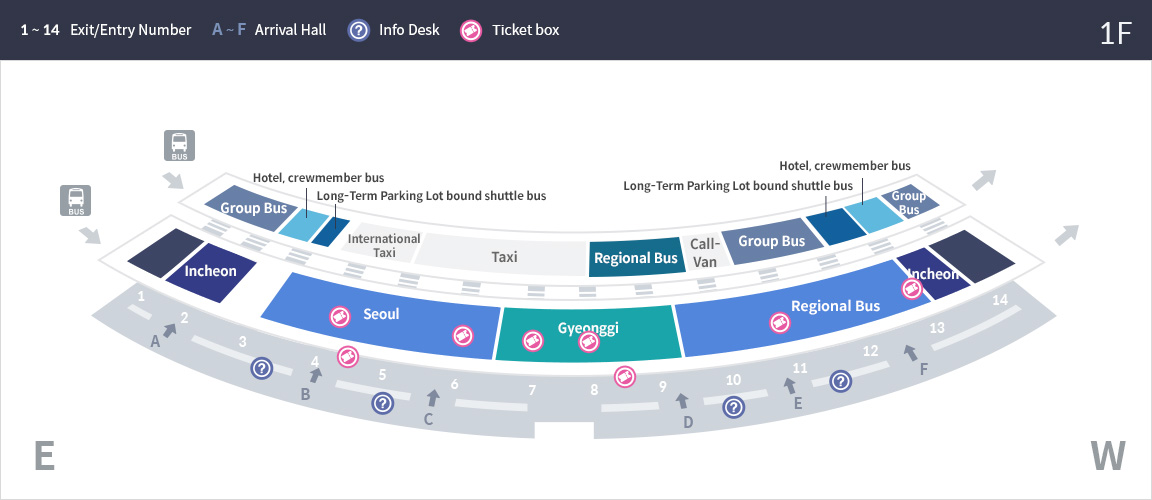 Terminal 2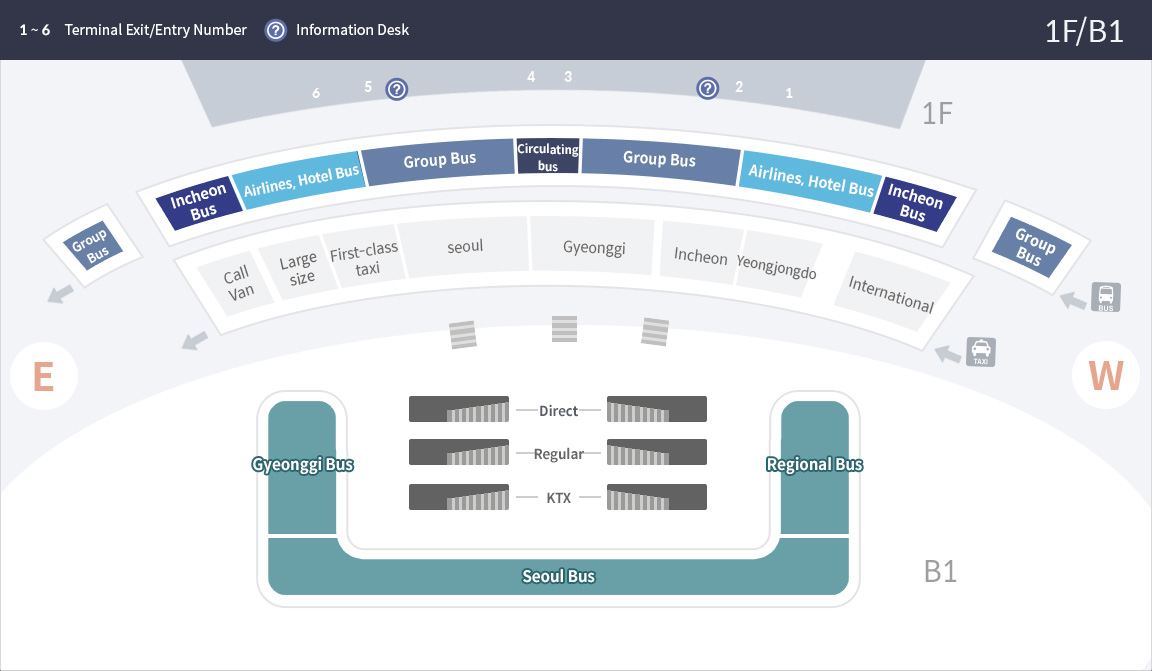 After purchasing your ticket, make sure that you arrive at your bus stop on time because buses usually arrive and depart promptly.
When the bus arrives, you will have to load your luggage into the luggage compartments that will be opened by the bus driver. The compartment closest to the front of the bus is usually reserved for the last stop in Daejeon – Dong-bu Bus Terminal Complex. That is where you should place your luggage. If you are unsure, just tell the driver "Dong-Bu Terminal" and he will show you where to put the luggage.
The last bus stop is the Daejeon Dong-Bu Bus Terminal Complex. This is where you get off and collect your luggage.
The first bus from Incheon International Airport to Daejeon Dong-Bu Bus Terminal Complex is at 6 AM and the last bus leaves the airport at 11:50 PM. The fare for the bus is KRW 23,100 (as of December 1, 2015). Buses will leave every 20 to 30 minutes to Daejeon depending on the time of day.
The journey takes approximately three hours, usually (but not always) with a 15-minute break at the halfway point (i.e. rest area). If you get off the bus to use the washroom, be sure to note the bus license plate number so that you return to the correct bus. Do not panic if you are still on the bus for over three hours. The driver will get you safely to your destination.
There are two scheduled stops in Daejeon before your final destination (not counting the break stop). The bus will make a stop only when there are passengers getting off; otherwise, it will continue its route. Just sit back, relax and wait until the final stop. If you do get anxious, you can ask a fellow passenger if you have reached Dong-Bu Bus Terminal Complex, or show them your ticket. When the bus finally stops at the Dong-Bu Bus Terminal Complex, this is where you get off – and remember to collect your luggage. Then look for the SolBridge students. They will help you with your luggage and take you to your residence.
---
DO NOT GET OFF THE BUS
UNTIL IT HAS REACHED ITS FINAL DESTINATION
If in the unlikely event you arrive at Dong-Bu Bus Terminal Complex and do not see the SolBridge students, please remain calm. They will be meeting you shortly. There are also coin-operated pay telephones inside the bus terminal complex. You can make a call by picking up the receiver, listening for the English instructions and then inserting ₩ 100 or ₩ 500 coins.
Taking the Train to Daejeon
There is a train running from Incheon airport to Daejeon Station. It takes about 2 hours to reach Daejeon. However, there are only 3 trains per day leaving Incheon airport to Daejeon Station. The transfer from the airport to the train station is a long walk. There are no porters at Incheon Station to help you with luggage. There are no porters to help you at Daejeon Station. Student Services does not provide support to students who decide to take the train. Taking the train to Daejeon is only recommended for students who are traveling light and already have some familiarity with Korea.
Speaking Korean
In areas where you find international travelers, you will find that many people speak English. If you cannot find anyone who speaks English, consider using (or showing to someone) the following useful phrases.