SolBridge Debate Society wins the 2019 Asian British Parliamentary Debate Championships
Category : [2019]
|
Writer : SolBridge
|
Date :
2019.09.05
|
Hit : 17,629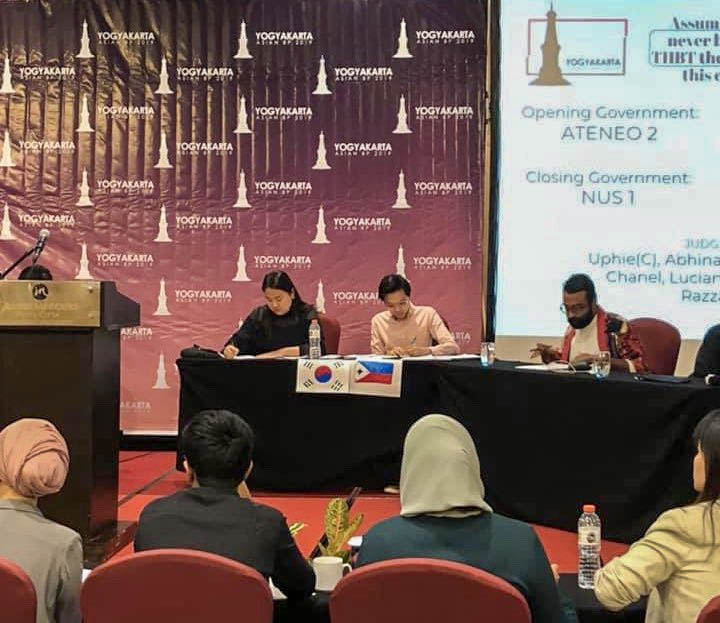 SolBridge Debate Society (SDS) represented by MBA student Leomar Doctolero and BBA student Soojung (Sally) Lee, has been crowned Champions at the 2019 Asian British Parliamentary Debating Championships.
Asian British Parliamentary Championships (ABP) is the premier international debate competition of Asia held in the BP format, showcasing the continent's top debaters as the event that determines the Champion of Asian debate. This year's edition, held at Gadjah Mada University in Yogyakarta, Indonesia, was attended by over 150 debaters (76 teams) representing 48 institutions from 11 nations/regions all across Asia (Bangladesh, China, Hong Kong, India, Indonesia, Japan, Korea, Malaysia, Philippines, Singapore, and Thailand) and judges from all over the world, including the UK, Australia, and the United States. The tournament features six preliminary rounds, after which the top 24 teams advance to elimination rounds (Pre-Quarterfinals, Quarterfinals, Semifinals, Grand Final) to determine the Champions.
SDS has been attending the Championships since 2011, making strides each year, advancing to the elimination rounds every year from 2016, and making it to the Semifinals last year in 2018. This year, they took the final step to hoist the trophy, defeating traditional powerhouses National University of Singapore, Singapore Management University, and Ateneo de Manila University in the Grand Final. In accomplishing this, SolBridge becomes the first institution from Korea and Northeast Asia to become Asian Champions.
This win is the latest triumph in what has been SDS's most successful year yet, with SolBridge students already having been crowned Back-to-Back Champions of Korea, as well as winning the Championship at several regional, national, and international events. No doubt becoming Champions of Asia represents the highest peak ascended by SDS in SolBridge proud history, and our debaters hope to build on this by accomplishing great things in December at this year's World Championships, which will be held in Bangkok, Thailand.
Congratulations to 2019 Asian Champions Leomar and Sally and all members of SDS who continue to establish SolBridge brand name as a top debate institution in Asia.