Welcome Convocation Fall 2019
Category : [2019]
|
Writer : SolBridge
|
Date :
2019.08.29
|
Hit : 16,664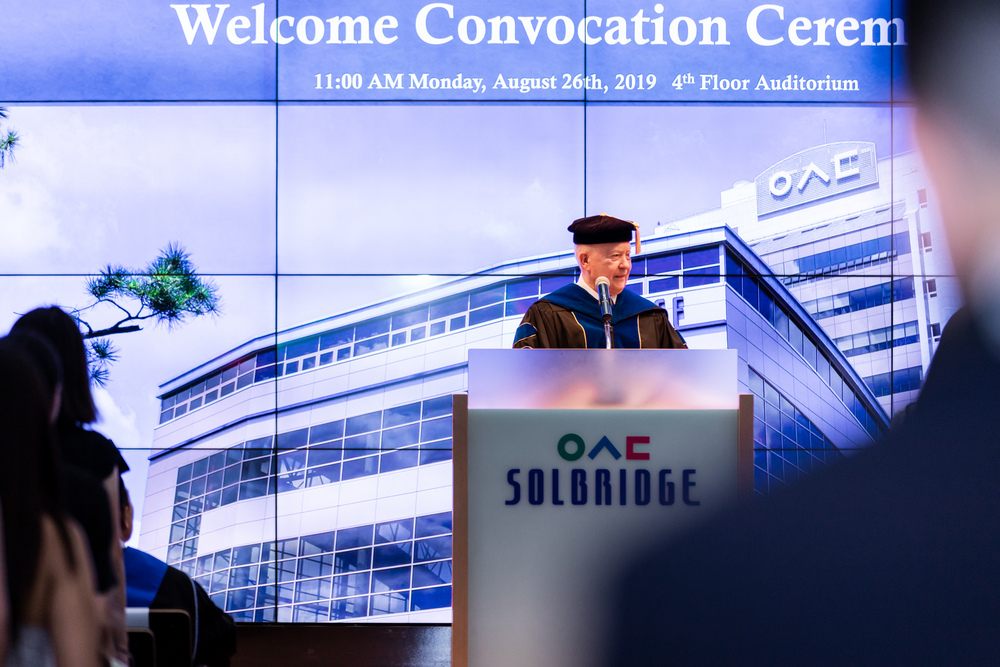 Monday, August 26th, 2019 marked the beginning of the Fall 2019 semester with a convocation ceremony welcoming 480 students from 53 nationalities to their new family SolBridge. This intake raises SolBridge's on-campus student representation to 62 nationalities, nine of which are joining us for the first time. These include Austria, El Salvador, Estonia, Liberia, Lithuania, Mauritania, Sudan and Tanzania.
During the Ceremony, Dr. Endicott, President of Woosong University and the Acting Dean at SolBridge and Dr. Sung-Kyung Kim, Former Chairman of the Woosong Education Foundation, welcomed new students and faculty to the SolBridge community. In their welcome remarks, they reiterated SolBridge commitment to creating an exciting, productive and academically rewarding journey at SolBridge. They encouraged students to embrace the diversity SolBridge offers and make an effort to horn their multi-cultural and intercultural communication skills by becoming aware of other people's cultures and belief systems.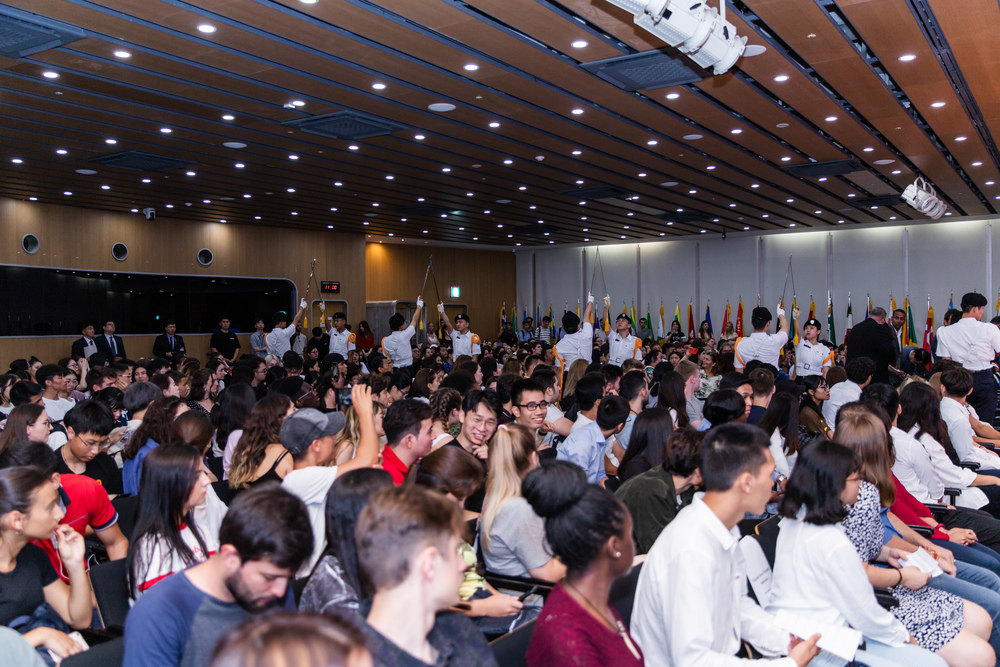 The ceremony was concluded with the following 23 first-year students receiving Woosong Education Foundation scholarship in recognition of their previous academic achievements.
· Yanina Muraveva – Belarus
· Gong Yuhao - China
· Nicole Gorrese – Brazil
· Hanne Hopp – Norway
· Luu Dinh Dat – Vietnam
· Lucia Mena - El Salvador
· Gourav Salotra - India
· Melissa Redel - Germany
· Ni Kadek Dera Purnama - Indonesia
· Danil Tsoy - Kazakhstan
· Ngaira Abigail Subirina - Kenya
· Alanas Radinis - Lithuania
· Aminaa Temuujin - Mongolia
· Patrycja Niewiadomska - Poland
· Denis Pak - Uzbekistan
· Phyo Eaindar Khine - Myanmar
· Syeda Hajra Gilani - Pakistan
· Mikhail Kuznetsov - Russian Federation
· Chawna Varinthorntip - Thailand
· Tagaev Sultan - The Kyrgyz Republic
· Bua Celina Gamal - Uganda
· Shannon Petersen - Republic of South Africa
· Richard Redfern - United States of America
Congratulations to all freshman upon joining SolBridge and we wish everyone a remarkable SolBridge experience!