Sol-Parents Night
Category : [2012]
|
Writer : 관리자
|
Date :
2012.05.29
|
Hit : 44,392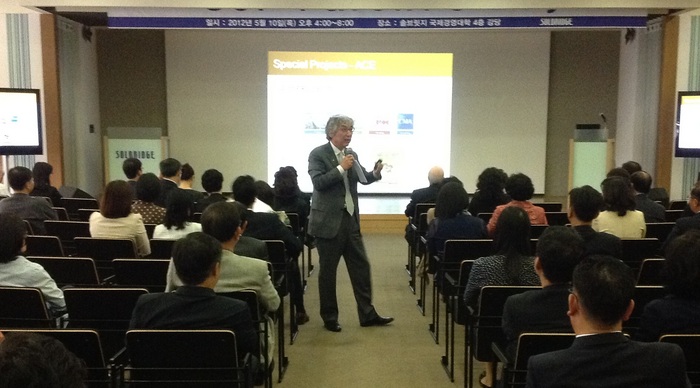 May is typically a busy month at SolBridge with a trove of exciting and special activities for students and faculty—from Sports Day to Teacher's Day.
---
The month of May was also a time for a special event for the parents of some of the student population with the annual Sol-Parents Night on May 10 which coincided with Korean Parents' Day earlier in the week.
During the four-hour program, parents were given two special presentations about what SolBridge is doing these days and the school's vision for the future by Dean Yong Wook Jun and Vice President Dr. Sang Jik Jang. The Dean talked about some of the achievements and accomplishments the school has made in the last year and what the future holds for the school.
The night was just as much about SolBridge as it was for the parents in attendance. After the presentations by the Dean and Vice President Jung and a short reception—for parents and faculty to meet—there were two student presentations. One group of students talked about their orientation experience at SolBridge prior to the beginning of the Spring 2012 semester and the other group, members of the SolBridge Debating Society, held a mock debate for parents and faculty.
Finally, parents, students, and faculty enjoyed dinner together and the chance to get to know each other better.