SolBridge Holds First Korean Language Contest
Category : [2012]
|
Writer : 관리자
|
Date :
2012.05.28
|
Hit : 43,131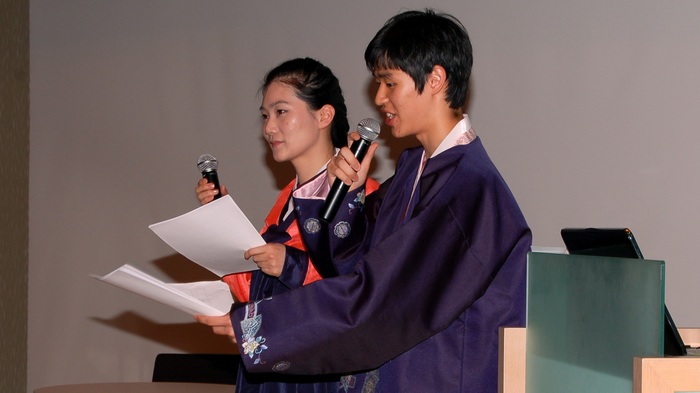 On Friday, May 25, 2012 the fourth floor auditorium was filled to capacity with nervous and excited participants. Some were dressed in traditional Korean Hanboks or colorful traditional clothing from their countries while others were dressed in a variety of costumes for their upcoming performances. In the back of the auditorium, some students in small groups went over their acts one more time as the final minutes ticked down before curtain call.
---
For days, students studying Korean at SolBridge had been preparing for this one moment: to strut their stuff—their Korean language skills—upon the stage.
Sponsored by the SolBridge Student Council, the 1st Korean Language Contest brought together students from all the Korean language classes to demonstrate their Korean language proficiency in front of their classmates, professors, and friends. More importantly, the competition also reflects SolBridge's mission statement of preparing students for the next generation of Asian Thought Leaders with the emphasis on the language skills taught at SolBridge including Chinese, Japanese, and Korean.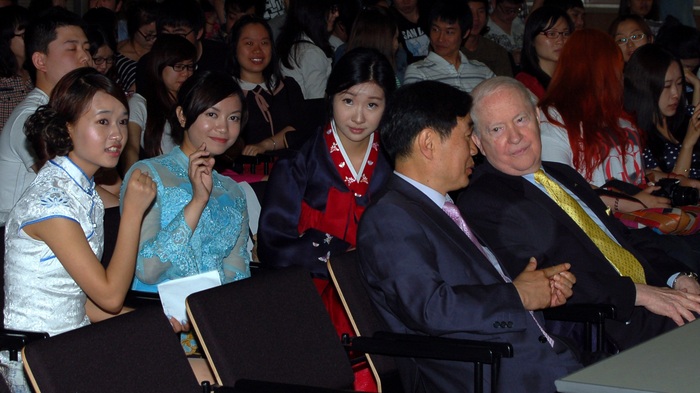 The most popular medium for students to demonstrate their Korean language skills was in the form of a song—some were performed as a solo, duet, or trio performance or for one group of students, a more extravagant performance with a well-choreographed musical finale (even having members of the audience join them on stage). Other students opted for a more dramatic showcase with a variety of skits, including the Korean version of "Who's on First" (a famous comedy routine/vaudeville act performed by the American comedian duo of Bud Abbott and Lou Costello about a baseball team with some interesting names: Who's on First, What's on Second, and I Don't Know is on Third).
For over two hours, students dazzled and entertained the audience with their Korean language proficiency and creativity in demonstrating their skills. Although there will only be three winners selected from this competition (announced at a later date), everyone was a winner for participating.