SolBridge Alumnus Rustam Karimjonov Honored as 2021 AACSB Influential Leaders
Category : [2021]
|
Writer : SolBridge
|
Date :
2021.02.17
|
Hit : 29,382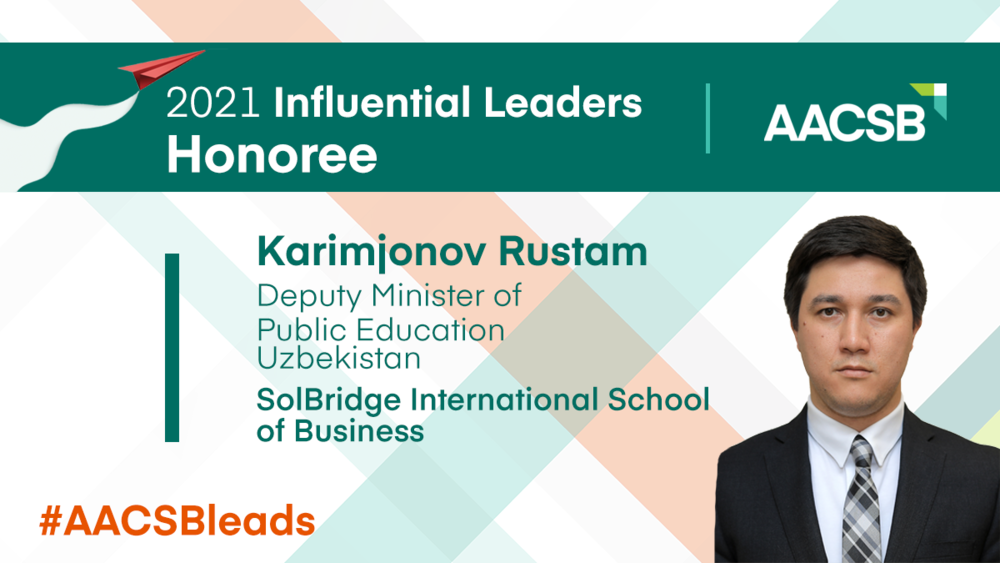 Today, February 17, 2021, SolBridge is delighted to announce that alumnus Rustam Karimjonov is one of 25 business school graduates honored by AACSB International (AACSB) – the world's largest business education alliance - as the 2021 Class of Influential Leaders. The annual initiative recognizes notable alumni from AACSB-accredited business schools whose inspiring work serves as a model for the next generation of business leaders.
Rustam Karimjonov currently serves as the Deputy Minister of Public Education in Uzbekistan. Rustam has been involved in the reform, development, and management of school education in Uzbekistan. He has notably led the introduction and coordination of modern information technologies, innovations and vocational education systems for school children throughout the country. As a deputy minister, Rustam has negotiated public-private partnerships with stakeholders such as Uzbekistan's Cabinet of Ministers, local governments, and city councils, as well as local and foreign companies to provide greater access to information through technology innovations. More than 7,500 (75%) secondary schools and 4.8 million Uzbek students and their teachers have now access to broadband internet and the wide variety of educational resources it provides.
"We are inspired by the efforts of business school graduates like Rustam Karimjonov," said Caryn L. Beck-Dudley, AACSB president and CEO. "SolBridge is developing leaders prepared to change the world, and AACSB is honored to recognize Rustam Karimjonov for his positive impact in society."
Now in its sixth year, AACSB's Influential Leaders honorees include nearly 250 business school graduates who have created a lasting impact in business and society. All honorees have earned an undergraduate, graduate, or doctoral degree from one of the more than 870 AACSB-accredited business schools worldwide. Each honoree's unique stories and how they are creating meaningful, lasting impact in the world are available at aacsb.edu/influential-leaders.
Established in 1916, AACSB is the world's largest business education alliance, connecting educators, learners, and business to create the next generation of great leaders. With a presence in more than 100 countries and territories, AACSB fosters engagement, accelerates innovation, and amplifies business education impact. Learn how AACSB is transforming business education for a better society at aacsb.edu.
"Leadership in innovation, critical and system thinking, openness to changes and challenges, willingness to have a positive impact – is what I learnt at SolBridge and these are now my main life principles" said Rustam. "I am trying to develop and implement systematic and strategic reforms that lead the young people to innovate, use the successes of technology to have a better life and to have a positive impact for their communities like I was taught at SolBridge" He added.
SolBridge MBA and BBA programs were accredited in 2014, only six years after its establishment, making it the youngest institution in the world to receive this accreditation and confirming our commitment to meeting the high-quality standards of international business education.
SolBridge is proud of Rustam's achievement and strives to provide practical education while nurturing the next generation of Global Business Leaders.