Fall 2014 CEO Mentoring Program Kicks Off
Category : [2014]
|
Writer : 관리자
|
Date :
2014.09.19
|
Hit : 32,132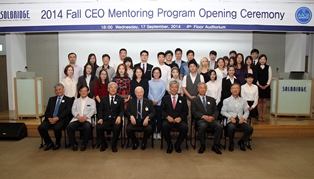 On Wednesday, September 17, 2014 the Fall 2014 CEO Mentoring Program got underway with an opening ceremony in the fourth floor auditorium, dinner in the Sol Bistro, and breakout sessions with the mentors and their mentees.
---
This semester, five CEOs are participating in the program: Dong-soo Choi, Chairman of Advisory Council, Asian Bankers Association; Il Jin Park, Chairman, Latec Ltc; Young-chull Cho, Co-representative CEO Knowledge Forum; Bong-young Cho, President Pan Asia Capital, Ltd; and Bong-tae Yoon, Corporate Advisor, GS Caltex Corp. Thirty-six BBA and MBA students are enrolled in the program this semester.
During this mentoring program, students will get first‐hand experience learning from experts from top global corporations within Asia. They will gain a fresh insight into the responsibilities of being successful business leaders and managers enabling them to be better equipped to deal with real life business decisions in their future professions.