"I Am GACCS"
Category : [2014]
|
Writer : 관리자
|
Date :
2014.09.16
|
Hit : 31,574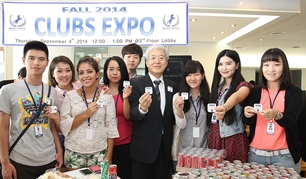 Recently, SolBridge students were treated to a special surprise when pins with "I Am GACCS" were handed out by Dean Jin-sung Kim during lunchtime. The pins, which were designed to foster school spirit, have a special meaning for all SolBridge students.
---
The pins, which feature the term GACCS, is what makes SolBridge special and unique. It is all a part of the school's vision and mission which is educating the next generation of Asian Thought Leaders.
Who is an Asian Thought Leader?
An Asian Thought Leader is someone with GACCS.
GLOBAL PERSPECTIVE: Displays knowledge of global markets, business practices, and cultural norms between business in Asia and other parts of the world.
ASIAN EXPERTISE: Demonstrates knowledge of Asia by articulating the differences and similarities among their individual cultures, best business practices, legal requirements, and economies.
CROSS-CULTURAL COMPETENCE: Exhibits a broad understanding of management principles and the ability to analyze situations to select the best solution or to identify, derive, and deliver a new alternative solution.
CREATIVE MANAGEMENT FOUNDATION: Ensures awareness of one's own cultural values and beliefs, an awareness of other cultures, values, and belief systems, and is able to effectively communicate and function in multicultural settings.
SOCIAL RESPONSIBILITY: Practices ethical behavior in decision making in and beyond the organization within the context of varying cultural constraints and articulates the necessity for organizations to be environmentally and socially responsible.