SolBridge and BINUS University, Indonesia signed collaboration on 2+2 BBA Agreement
Category : [2017]
|
Writer : Rezia Usman
|
Date :
2017.08.11
|
Hit : 24,705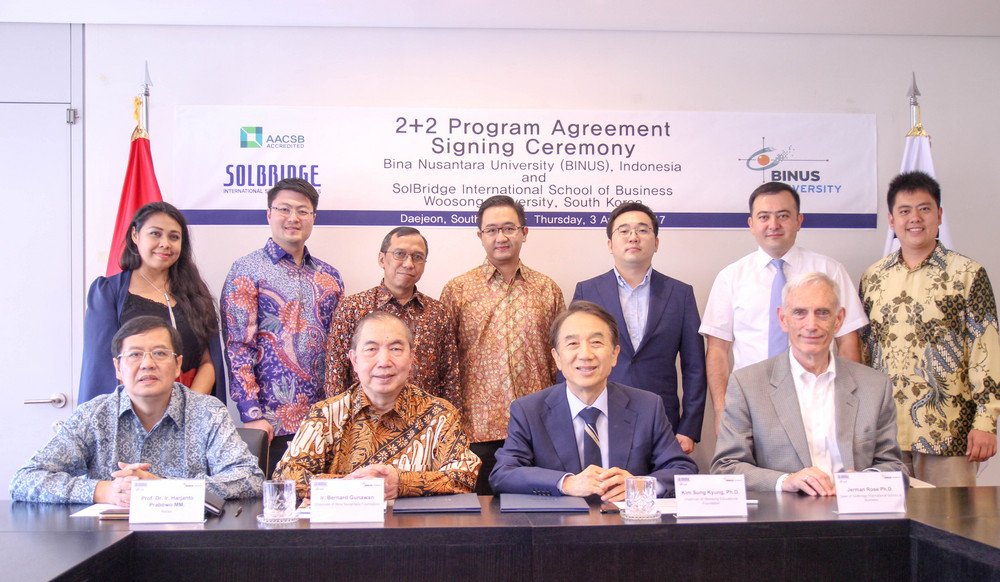 SolBridge International School of Business has upgraded its collaboration with BINUS University, Indonesia. On Thursday, August 3, 2017, two prominent leaders of both universities, Chairman Bernard Gunawan from BINUS University and Chairman Kim Sung Kyung from Woosong Educational Foundation signed a 2+2 agreement that incorporates a unique structure between the two institutions. The nature of this agreement is the first between two universities in South Korea and Indonesia.
The 2+2 agreement would be focusing on not only preparing students from both sides with the academic foundation they need but also the practical knowledge in the fields. BINUS and SolBridge are both well known for its firm grip and network with industries in its regions. As such, for the first time, the dual Bachelor of Business Administration degree offered by these two reputable institutions also incorporates elements of internships. "Lots of students nowadays graduate with a degree, but they aren't ready for the job market. Internships serve as an active, hands-on preparation to ensure our graduates readiness and SolBridge is a perfect match for our university", Chairman Bernard commented after the ceremony. During the discussion that took place after the ceremony, Chairman Kim also added that "Indonesia has proven to be a stable country- economy wise and we see start-up businesses mushrooming at a remarkable rate. Therefore, it makes sense if we combine forces with BINUS; a university respected for embracing and generating young and ambitious entrepreneurs".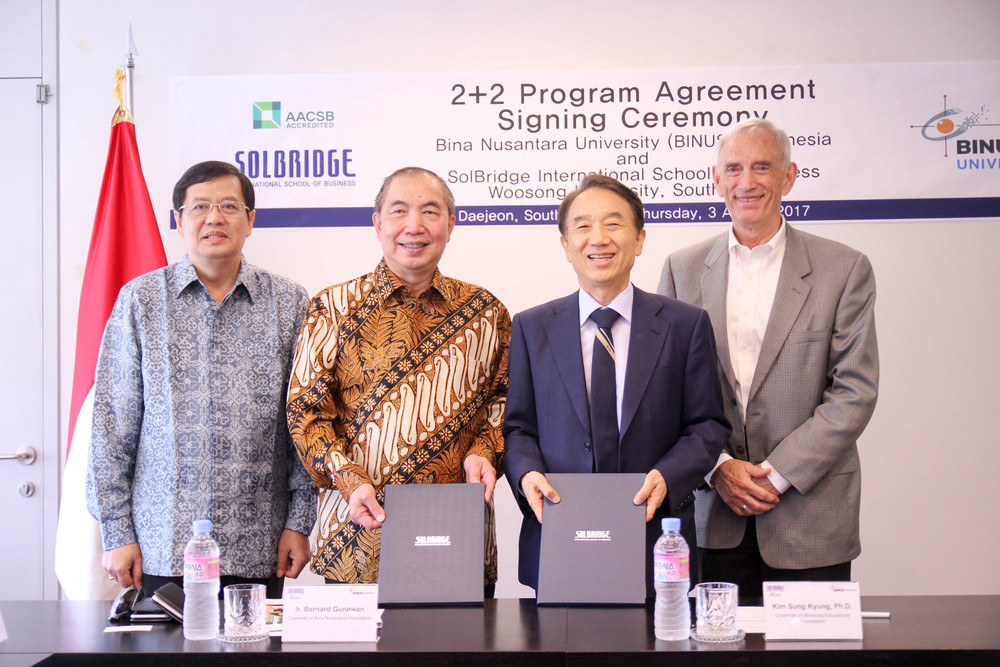 The dual degree signing serves as a seal of an already existing long term network between the two institutions. SolBridge and BINUS' relationship is known to have started a few years ago, ranging from Exchange Student program and 1+1 MBA program. This Bachelor double degree signing strengthens the tie between the two institutions.
The first batch of this program is expected to commence their transfer study in Fall 2018, and both sides are gearing up to send the words out to existing students as a first priority.