Graduation Information Session
Category : [2013]
|
Writer : 관리자
|
Date :
2013.09.26
|
Hit : 40,472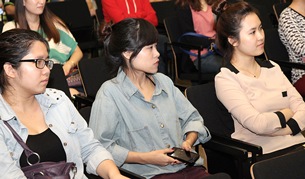 For many prospective graduates at SolBridge, the road to graduation begins when one starts their last semester at SolBridge.
However, the "official" road to graduation begins with the Graduation Information Session, the first of three "graduation events" to ensure a smooth transition from student to graduate.
---
During the information session, prospective BBA and MBA graduates are given information about what they need to do before the graduation ceremony at the end of the semester which includes filling out a checklist which students receive after this session of the things they need to do before graduating.
The next graduation event is Sol Seniors Night at the end of October which is a chance for students to meet with professors and to reflect on their time and experiences at SolBridge.