Geumsan Insam Festival 2013
Category : [2013]
|
Writer : 관리자
|
Date :
2013.09.25
|
Hit : 41,146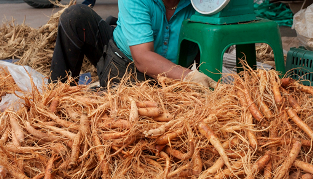 What comes to your mind when you think of Korean cultural exports? Other than the obvious—electronics and automobiles—many people might instantly think of K-Pop with popular girl & boy bands such as SNSD, Big Bang and Super Junior or Korean dramas which have led the Hallyu Wave for the past two decades.
---
However, if we could turn back the hands of time to Korea's past, the answer might be a little different, but not surprising. Ginseng, which was extremely renowned for its indisputable medical effects on human beings' health continues to be one of Korea's most famous and traditional cultural exports.
Right before the long traditional Chuseok holiday, one of the most popular festivals during autumn in Korea that no one should miss is the Geumsan Ginseng Festival which annually takes place from September 6-15 at Ginseng and Herbal Medicine Street in Geumsan County of Chungcheongnam-do, the largest producer of ginseng in Korea.
Fortunately, this popular festival which started back in 1981, is only two hours from SolBridge by bus and on the last day of the festival, SolBridge organized a field trip to the festival.
As soon as we arrived at the festival we were warmly welcomed by hundreds of booths selling various kinds of ginseng products from medicine, wine, candy to jelly, juice and even cosmetics.
To foreigners, that ginseng is sold everywhere from luxury shops to street venders is an interesting view that you cannot see anywhere else but Korea. That was what made it very interesting for those of us who have already bought or used ginseng products in the past.
Aside from numerous ginseng products, exciting events as well as traditional food & performance shall please all visitors to the festival.
Due to the limited time schedule, we can only have a quick visit to the ginseng factory and have a glance inside it.
It was such a great day at the Ginseng Festival 2013. And we all look forward to the next festival 2014 with a further insight into the Ginseng Production Industry of Korea.
By Heidi Nguyen MBA 2013, Vietnam