Welcome Back Alumni!
Category : [2015]
|
Writer : SolBridge
|
Date :
2015.10.01
|
Hit : 45,297
Welcome Back Alumni!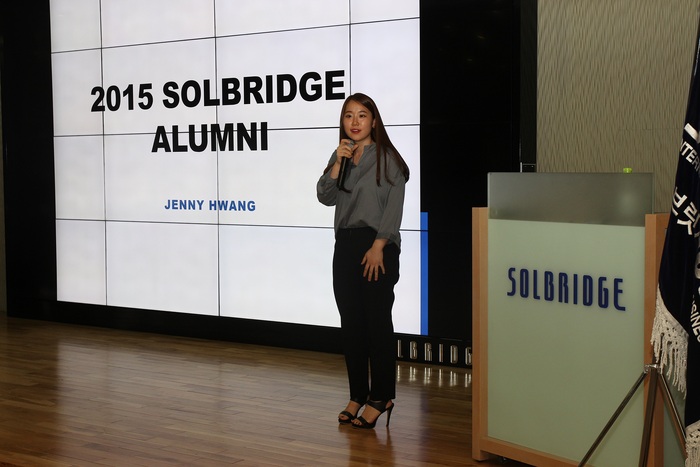 SolBridge welcomed back five alumni who shared their work and education experience after graduating.
During the four-hour program, which included smaller breakout sessions with students, Hee-chul Kim (BBA graduate, June 2012), Mei Yin (BBA graduate, December 2013), Thi Nhu Quynh Nguyen (MBA graduate, December 2014), Jung-hye Hwang (BBA graduate, June 2013), and Jin Zhang (BBA graduate, June 2013) shared not only their experiences but also offered suggestions and advice for students about how to make the best of their time at SolBridge.
Of the five students, four have found employment: Nguyen is a Project Manager Assistant for Aju Incentive Tour in Korea; Yin works in the Oversea Marketing Division at Jireh M&C in Korea; Hwang works at Prototech, a Korean company; and Zhang, works at the Economist Group in Hong Kong in marketing. Kim, meanwhile, is studying an MBA at KIAST in Daejeon.
This is the second year that SolBridge and CDC (Career Development Center) has held an Alumni Homecoming Day to provide an opportunity for students to hear the success stories of recent graduates and to learn from their experiences at SolBridge.