Beta Gamma Sigma Induction Ceremony Held
Category : [2015]
|
Writer : SolBridge
|
Date :
2015.06.24
|
Hit : 53,423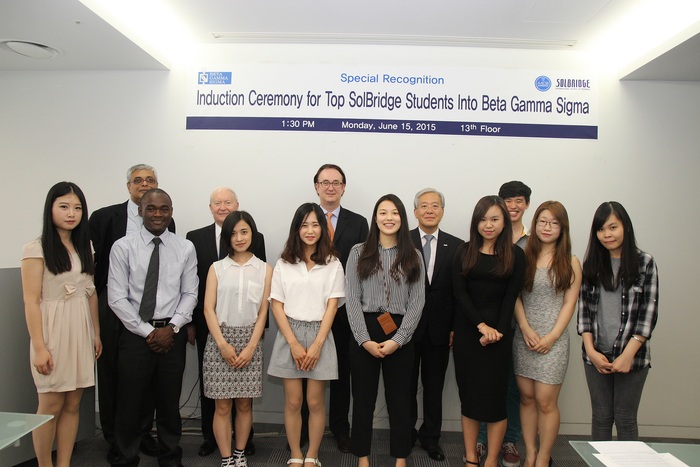 Beta Gamma Sigma Induction Ceremony Held

An induction ceremony for SolBridge's top students into Beta Gamma Sigma, an international business honorary society, was recently held.
During the brief ceremony, nine students were officially inducted into the honor society. Dr. Bill Hunsaker from Kyunbuk National University presided over the ceremony after he briefly explained the history and the role of the society as well as presenting SolBridge with its charter.
Beta Gamma Sigma was founded in 1913 at the University of Wisconsin. Today the society has over 725,000 members, selected from over 530 collegiate chapters in business schools accredited by AACSB International.
The purpose of Beta Gamma Sigma is to encourage and honor academic achievement in the study of business as well as foster personal and professional excellence among its members. A major emphasis of the society is to foster ethical business leadership. While membership is highly selective, the honor society is the largest alumni group in the world for graduates of business programs.