SolBridge Debate Society win 2021 Korea National Championship
Category : [2021]
|
Writer : SolBridge
|
Date :
2021.05.25
|
Hit : 21,214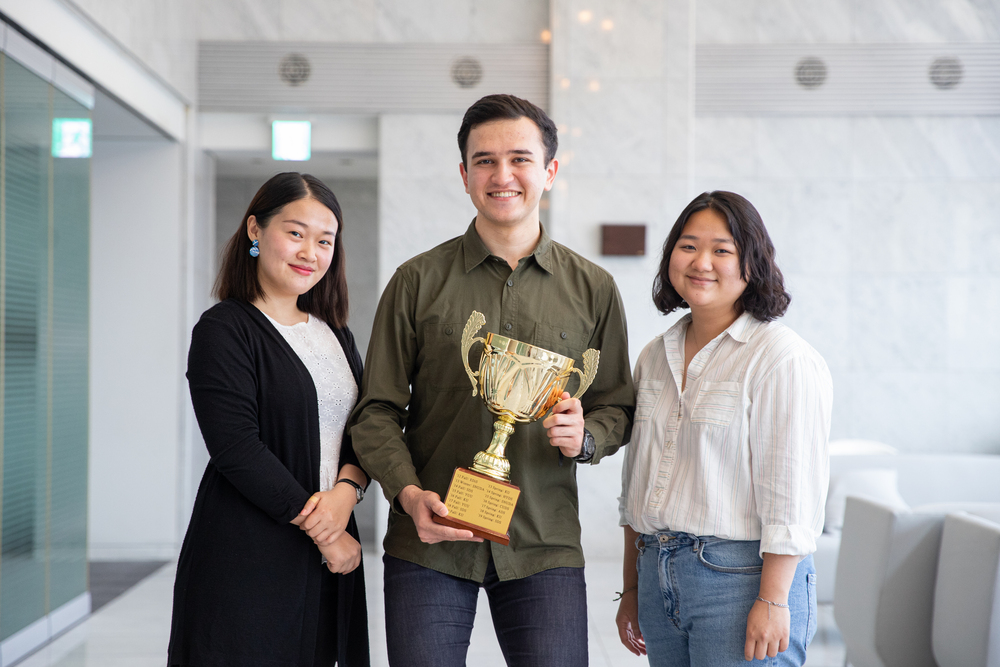 SolBridge Debate Society (SDS) represented by Houymean Lim, Jamoliddin Ergash-Zoda, and Sally Lee, has once again been crowned Korea's champions.
Seoul National University hosted the Spring 2021 Korea National Championship (KNC) on May 19, 22-23. This is an incredibly competitive tournament where teams representing the top universities throughout Korea compete against each other in Asian Parliamentary format debating. Each round of debate sees two teams (of three members each) go up against each other and debate various controversial topics.
Some of the competing schools in this edition of KNC included Seoul National University, Yonsei University, Korea University, Sogang University, Hanyang University, Kyunghee University, Ewha University, and Hankuk University of Foreign Studies. Teams battled through six difficult preliminary rounds spread over two days before a select number of teams advanced into the elimination rounds based on skill, persuasiveness, and strength of argument. Two teams and our team judge (Bobur Sirojiddinov) proudly representing SolBridge at KNC were SDS 1 (Houymean Lim, Jamoliddin Ergash-Zoda, and Sally Lee) and SDS 2 (Ga-Yun Lee, DongGi Lee, and Aytalina Shestakova).
SDS 1 dominated the competition as the only team to win every preliminary round (and often by a landslide, with their average margin of victory being nearly 10 points). After knocking out top teams in the Quarterfinals and Semifinals, SDS went head-to-head with Hankuk University of Foreign Studies in the Grand Finals. The result of the Grand Final was 8-1 in our favor, completing their undefeated run.
SolBridge team also took best speaker awards with Houymean Lim being awarded the 7th best speaker award, Jamoliddin receiving the 5th best speaker award, and finally, Sally being crowned the overall best speaker of the Korea Nationals.
Congratulations to the champions, members of SolBridge Debate Society, and to professor Joshua Park and professor Danielle Swanepoel for successfully coaching the teams to achieve yet another win.