Call for Applications – Fall 2021 Intake
Category : [2021]
|
Writer : SolBridge
|
Date :
2021.04.13
|
Hit : 27,527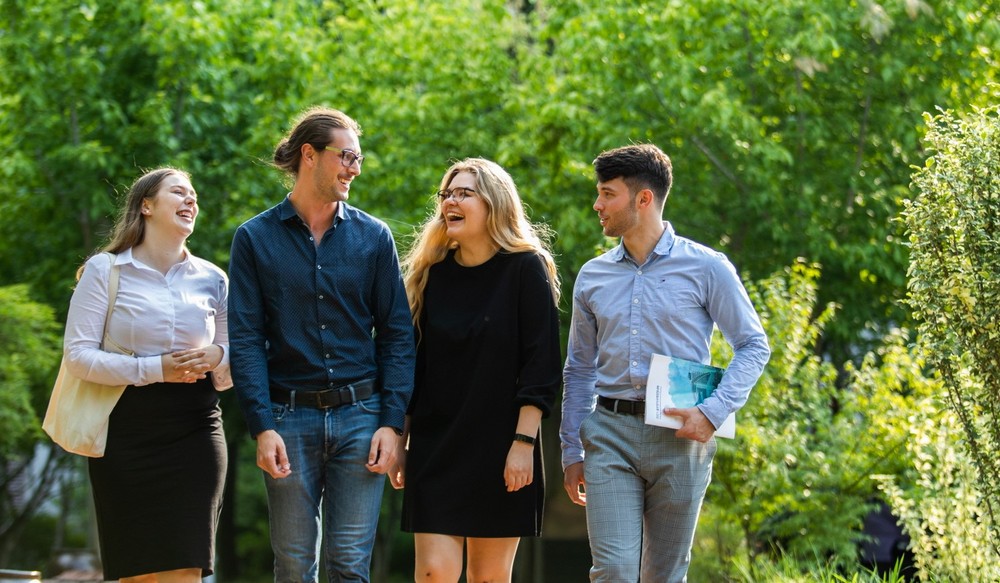 SolBridge International School of Business is now accepting applications for Fall 2021 intake. Apply now and join our diverse community from over 60 countries. Applications are evaluated on a case-by-case basis taking into account the applicant's academic records, English proficiency, financial status, personal essay, extra-curricular activities, and letters of recommendation.
Academic Programs
SolBridge students develop the academic knowledge and technical skills necessary to understand the modern business world, achieve the highest level of success in their professional careers, and prepare for a successful transition to the job market after graduation.
Bachelor of Business Administration (4 years)
The BBA program is a practical and international program designed to help students develop the fundamental business and management skills needed to kick-start their careers. Students can pursue one of five specializations (Finance, Management and Entrepreneurship, Marketing, Technology and Innovation, or Data Analytics) or complete a non-specialized genera BBA degree.
Master of Business Administration (1 year)
The MBA program prepares professionals to lead organizations of the future. The program is designed to give students with prior working experience solid expertise in business fundamentals in addition to the soft skills needed in today's workplace. Students can take this program either offline or online.
Master of Science in Marketing Analytics (2 Years)
The MSMA degree is a two-year program designed to meet the in­creasing demand for analytical skills, particularly required in marketing. The program nurtures professional marketing analysts with statistical, programming, and analytical skills to make data-driven decisions.
Master in Management and Technology (2 Years)
The MIMT degree is a two-year program designed to meet recent graduates' requirements, regardless of whether they have a background in technology or a background rooted in pure man­agement studies. Students will be equal­ly prepared to reach the same goal: to become skilled business leaders with a profound understanding of technical knowledge. Students can take this program either offline or online.
Master of Science in Technology Entrepreneurship & Innovation (2 Years)
The MSc in Technology Entrepreneurship & Innovation is a newly introduced two-year program designed to prepare students to become tech entrepreneurs capable of translating technology intellectual properties (IPs) into breakthrough products.
Ph.D. in Global Management (3 Years)
The Ph.D. in Global Management provides students with a rigorous academic foundation to be creative minds in academia. Doctoral students will work closely with world-class faculty who have broad expertise across all areas of management, marketing, finance, accounting, strategy, and organizational behavior.
.
Undergraduate Admissions Requirements
- Completed online application form

- Proof of English proficiency – IELTS 5.5 or equivalent

- Proof of High School Diploma

- Copy of passport – Photo Page

- List of extra-curricular activities and awards

- Proof of finances – a bank statement or letter

- Typed Personal Essay

- One letter of recommendation
Graduate Admissions Requirements
- Completed online application form
- Official Score of English Test - IELTS or equivalent
- Academic Transcripts (original or validated copies) with a cumulative GPA of 2.0/4.0 or higher – midyear transcripts are acceptable for those about to graduate
- GMAT/GRE; those without an official score should take SolBridge Internal Admission Test (S-GAT)
- Proof of Finances – bank statement or bank letter
- Copy of Passport – Photo Page
- Original Bachelor's Degree Diploma (Masters) and Master's Degree (Ph.D.)
- Written and Video Essay
- Two letters of recommendation Resume/CV
- Talent Scholarship essay
- Research Proposal (Ph.D.)
Scholarships
Admission scholarships are limited and competitive and cover only tuition fees. Scholarships are awarded for one semester for applicants. All applicants must have a minimum GPA of 3.6/4.5 to qualify for a Merit-Based Scholarship following the completion of their initial scholarship cycle. Tuition scholarships are awarded based on academic performance, personal essay, letter(s) of recommendation, extra-curricular activities, transcripts, and the application form.
Graduate students can also apply for Talent scholarships based on their academic and professional backgrounds. More information can be accessed on the SolBridge website. Applicants eligible for a scholarship must still demonstrate sufficient proof of personal finances to enter SolBridge.
Application Deadline
Admission is selective and students are urged to apply as early as possible to ensure sufficient time for application review, visa application, and moving preparations. The deadline for the Fall 2021 semester is June 30, 2021.