SolBridge crowned champions Asian English Olympics 2021
Category : [2021]
|
Writer : SolBridge
|
Date :
2021.03.11
|
Hit : 23,426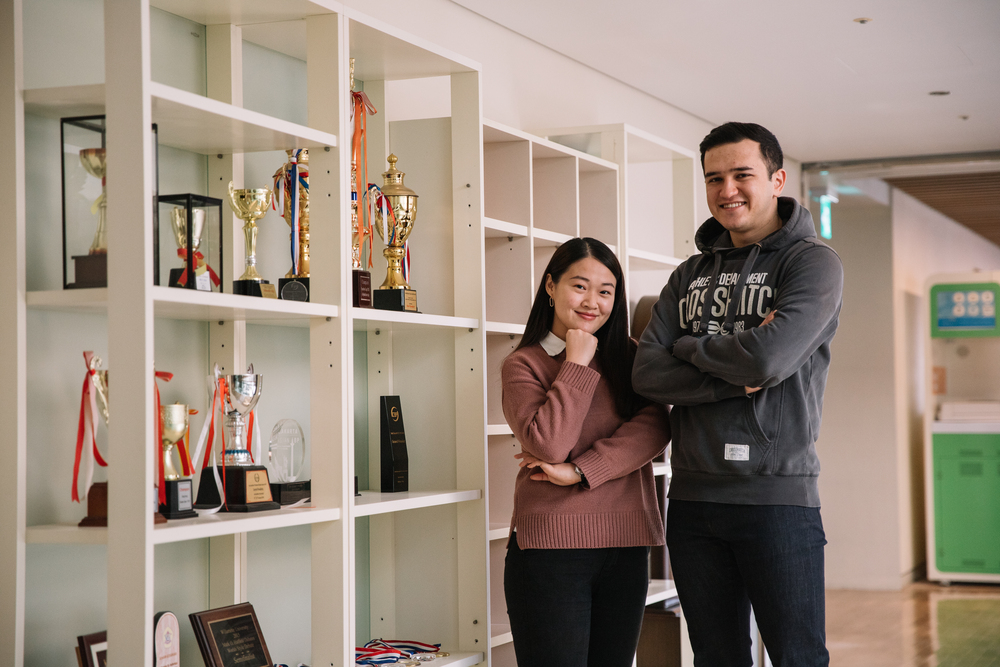 SolBridge Debate Society has made us very proud to be crowned champions of the Asian English Olympics (AEO) in the debate division. This is a much-coveted win at the AEO hosted by BINUS University in Indonesia and attended by several prominent institutions in Asia. This prestigious competition is a series of English language-related challenges that assess students' abilities in different forms of spoken and written English and also puts their critical thinking and communication skills to the test. Our students distinguished themselves in several of the challenges.
Students who represented SolBridge at AEO were carefully selected after a week-long, intensive training camp hosted by Debate-for-All. This camp afforded participants the unique opportunity to be trained by world-class debaters, coaches, and public speakers. Over a hundred participants took part in this training camp, and 19 students were selected to represent SolBridge at AEO.
SolBridge students took part in five divisions of AEO and advanced into the elimination rounds in all.
In the category of storytelling, this particular division involved various stories – all told with no script – such as a story based on the theme of exceeding possibilities and an in-character story based on a tale supplied by the AEO committee. We want to congratulate Leilt Assefa, who used her compelling storytelling skills to advance to the quarterfinals.
In the news casting category, the competition requires students to engage with their audience just like a real TV newsreader does: delivering hard and soft news, simulating a live on-location news report, and interviewing special guests. With impressive skill, Saule Ramazan reached the quarterfinals, and Fiona Koh Howitt made it to the semi-finals of this demanding competition.
Students are tested on their public speaking skills in the speech category, with speeches ranging from two minutes to seven minutes. Topics are given spontaneously to contestants, who are not allowed to use notes or a script. This is a challenging division, and we congratulate Ga-Eun Oh and Eleonora Nelidina, who successfully progressed into the elimination rounds.
We would also like to congratulate Ryan Kim, who fought his way to the semi-finals of the spelling bee division, which requires contestants to spell a wide range of increasingly tricky vocabulary terms. Contestants making it to the semi-finals must race against time to spell as many words as possible in fifteen minutes.
Finally, this competition that puts contestants' critical thinking, organizational skills, and logical skills to the test is the debate division. Students in this competition must adhere to the rules of British Parliamentary debate, in which four teams of two argue for and against a series of increasingly challenging motions.
After five preliminary rounds, we are proud to announce that all three teams from SolBridge Debate Society (Houymean Lim and Jamoliddin Ergash-Zoda; Boburmirzo Sirojiddinov and Le Hoang Giang; Polina Pashintceva and Aitalina Shestakova) advanced into the elimination rounds. After a challenging set of elimination rounds, SolBridge Debate Society (SDS), represented by Houymean Lim and Jamoliddin Ergash-Zoda, was crowned the AEO Debate champions.
Notably, Jamoliddin received the overall best speaker award, and best speaker of the grand finals award, while the second overall best speaker award went to Houymean. Polina Pashintceva was the tenth novice best speaker.
Congratulations to all participating students.