SolBridge wins top prize at Global Online Negotiation Competition
Category : [2020]
|
Writer : SolBridge
|
Date :
2020.07.21
|
Hit : 46,044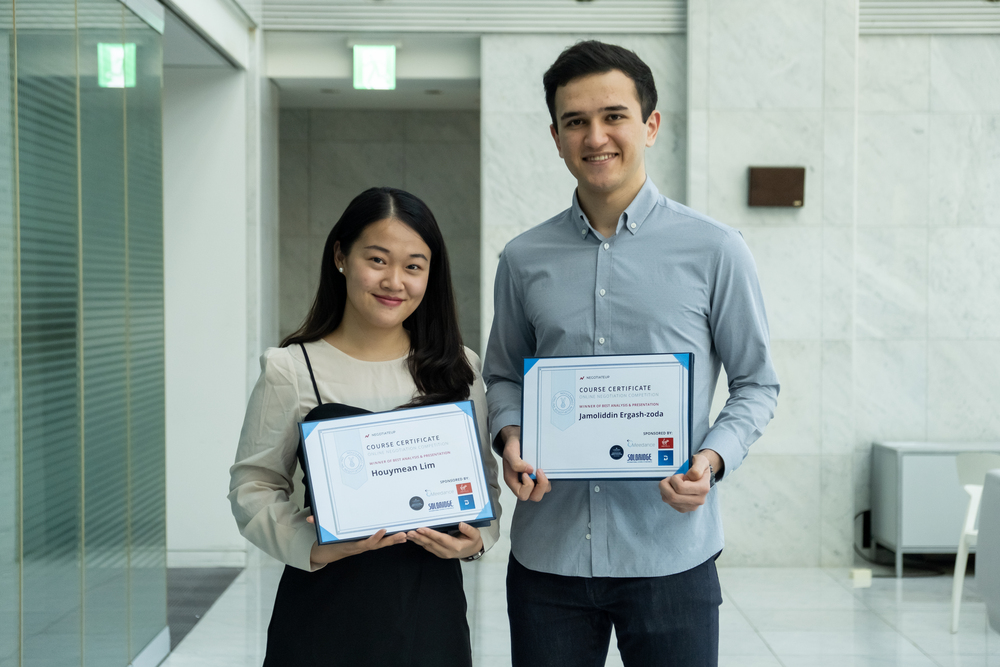 SolBridge, represented by BBA students Houymean Lim and Jamoliddin Ergash-Zoda won the top prize at the NegotiateUP Global Online Negotiation Competition on Monday, 29th June 2020, under the best analysis/presentation category. The competition was organized and judged by professors and researchers from prominent institutions, including from MIT, Columbia, Harvard, and Babson in cooperation with iDecisionGames, a global education platform. It attracted over 150 participants from top schools from the US, Canada, UK, Germany, Brazil, Mexico, India, Norway, Singapore, China, Hong Kong, as well as South Korea.
Students in our Business Negotiation course and members of the SolBridge Negotiation Club braved the time difference (the competition was run on Eastern Daylight Time), working into the very late night/early morning hours, to compete in this two-day event. They embraced the fierce competition and engaged in an intense series of sales negotiations and real-world-based entrepreneurial negotiations before receiving feedback and judging.
The competition featured two award categories: Best Analysis/Presentation (category one) and Best Negotiation (Category two). SoBridge students were prominently featured in the Final Rounds. In category one: Balint Kristof-Jozsa, Dario Cocquyt, Hans-Peter Wijns, Murodillo
Nasriddinov, Silvia Sun, Urvi Tayal, and Verhavert Ramhes Dateh Sagoro, along with our eventual winners and Minjung Choi in the second category. Each finalist team in the Best Analysis/Presentation category provided a short presentation of their negotiation from the previous day and fielded questions from the judges while a final negotiation was held for category two. While Minjung's team fell short of coming out on top in category two, SolBridge team was successful in leading the most highly rated presentation/analysis in category one, crowning them as winners in this very competitive field.
The Global Online Negotiation Competition was a unique learning experience and networking opportunity for our students amidst the pandemic. Congratulations to Houymean Lim and Jamoliddin Ergash-Zoda and all the participants for the hard work and accomplishments.