Tran Trang Linh: MSMA Valedictorian Class of 2019
Category : [2019]
|
Writer : Tran Trang Linh
|
Date :
2019.12.18
|
Hit : 27,460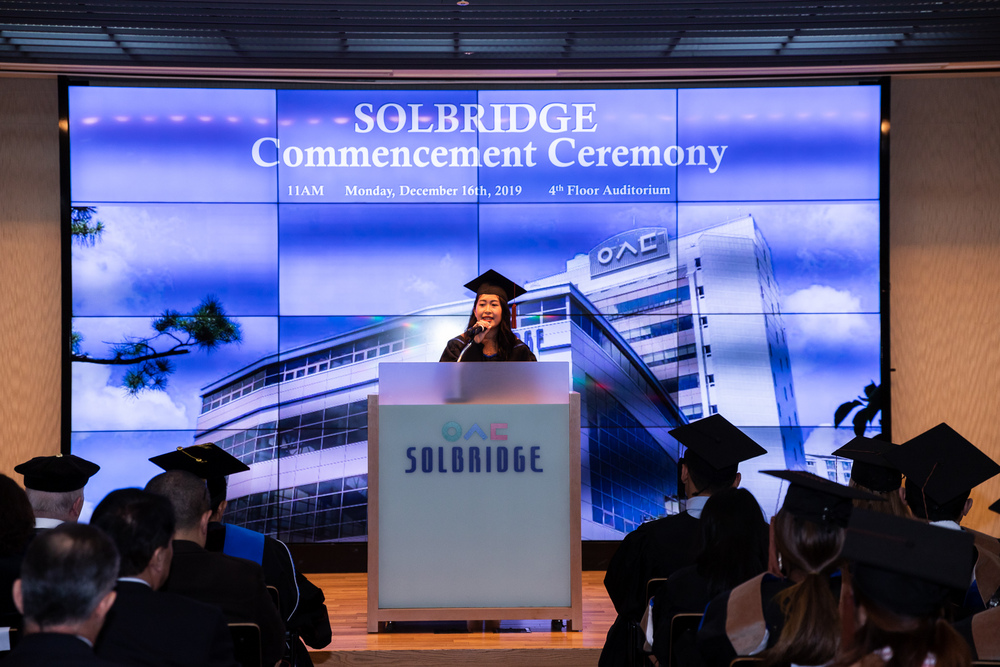 First of all, I want to say congratulation to all graduates of Fall 2019. Our journey at SolBridge might last one year, two years or four years. However, duration does not say anything; what matters is what we have learned here, at SolBridge.
One of our professors once said to us: "Garbage in, garbage out". It means that the quality of all the input determines the quality of the output. From all over the world, we are the best to be selected. Then SolBridge provided us with the best environment, materials and the best support for us to learn, to experience and become the better version of ourselves. Today, we're leaving the school with sound knowledge, professional attitude and a widespread network.
On behalf of all MSMA graduates, I would like to thank SolBridge for giving us the opportunity to study here. This new program is what we needed. Mainly, I want to say, thank you to our professors, who have been always dedicated to sharing with us their knowledge and experience. Our success cannot happen without your guidance. I also want to thank professors from the Career Development Center (CDC) and Writing Center who helped us when we were in need and brought us a lot of opportunities. Last but not least, the staff on the fifth floor, thank you so much for your support all that time.
When one door closes, the other opens. Our journey at SolBridge now has come to an end, and amazing opportunities are waiting for us. We are ready, and we are proud to go out there and say "We graduated from SolBridge!". Thank you!