SolBridge signs Cooperation with Daejeon Technopark
Category : [2019]
|
Writer : SolBridge
|
Date :
2019.12.16
|
Hit : 28,122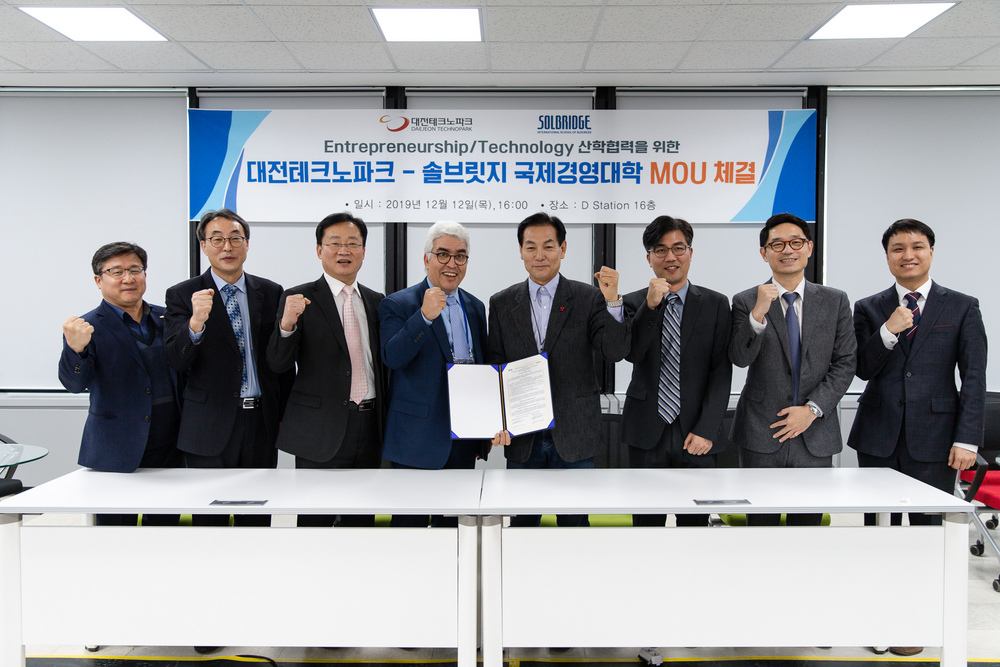 To tap into the dynamic innovation and entrepreneurial ecosystem of Daejeon, on December 12, 2019, SolBridge entered into a strategic partnership with one of South Korea's leading technological institutions, Daejeon Technopark.
Daejeon Technopark is a prominent innovation hub that focuses on supporting local and regional projects as well as start-up technology-intensive enterprises. Many SMEs and start-up businesses receive help support in their technological acceleration by taking advantage of working with multiple entities, like industries, academic and research institutes, through Daejeon Technopark's extensive networks.
The agreement with this prestigious organization will benefit SolBridge in two essential ways. First, SolBridge students will have the opportunity to collaborate with different founding teams supported by Daejeon Technopark. Secondly, the collaboration will particularly help in fostering the entrepreneurial spirit within SolBridge and Woosong University by providing support to students who want to start a business in the future through joint events and competitions.
The agreement signed by Dr. Hamid Bouchiki, Dean of SolBridge International School of Business and Dr. Sooman Choi, President of Daejeon Technopark witnessed by the leadership team of both parties.