BBA Valedictorian Speech Class of 2017 by Minchae Jo
Category : [2017]
|
Writer : Minchae Jo
|
Date :
2017.12.19
|
Hit : 32,789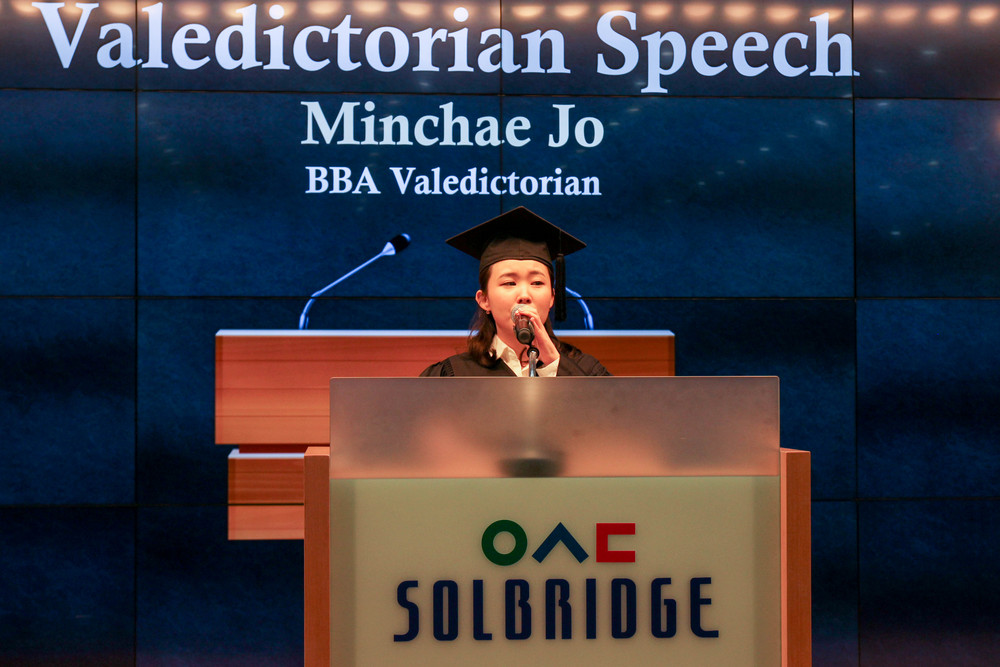 Graduates, faculty, parents, relatives, and others in attendance today: good morning. First of all, I would like to congratulate the graduating class of Fall 2017. Today is an extraordinary day where we not only recognize our achievements but also recognize those parents, faculty, and staff who helped us reach those achievements.
My journey up to this moment has had so many turning points that defined and helped to improve myself and live differently. These not only include my time spent interacting with a diverse group of students and faculty at SolBridge but also my study abroad time in France. I previously faced personal difficulties and depression during my high school years and more recently as a result of my parent's illness. These moments taught me valuable lessons about finding happiness in every circumstance and enjoying life in the present rather than in the future.
Most importantly, I have realized that any day could be a turning point in our lives; that could be yesterday or tomorrow. And today, we share a significant turning point together as we graduate and begin a new chapter. Regardless, of what our immediate future is whether finding employment or pursuing further education, we have developed ourselves and are ready to locate our path through life as confident young adults.
As I close, I would like to say that I am both surprised and honored to be recognized as the valedictorian. I attribute this award to my parents who always encouraged and supported me with a firm conviction.
Thank you for listening, and I cannot wait to see what inspiring things we will do in the future. Congratulations!