Leader vs. Leadership
Category : [2012]
|
Writer : 관리자
|
Date :
2012.05.01
|
Hit : 52,969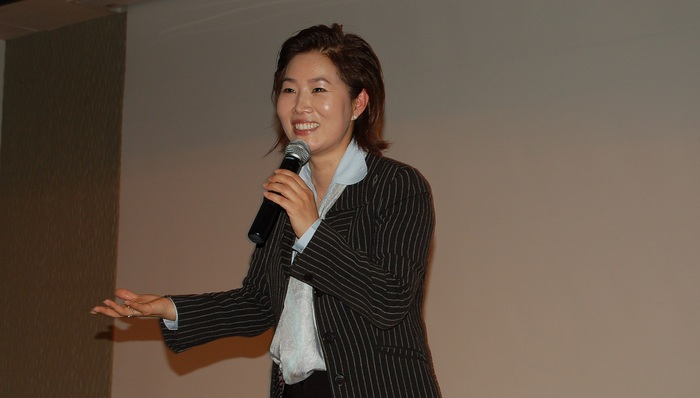 To be a good leader, one must possess many soft skills, but to be successful in today's competitive business world, there are four skills which are essential for strong leadership: confidence, specialization, communication and vision.
---
"You are the future leaders. I am from the older generation, but the fundamental thing that has not changed," Lee Haeng-hee, President and CEO of Corning Korea said. "You still need to identify what is the big picture, what you should do to be a leader and how to prepare for it."
Lee, who joined Corning Korea in 1988 as a customer service representative, has never looked back in her rise to the top. In 2005, the Asian Wall Street Journal named her as one of the top executives to watch in Asia. She has been an advisory board member of Executive Education Committee of Korea Management Association since 2006. She was also appointed a board member of Invest Korea of KOTRA (Korea Trade-Investment Promotion Agency).
Additionally, she has been the chairman of the Korean CEO's association of Multinational Corporations which has over 130 business leaders since September, 2010. She published a marketing book titled, Miniskirt Marketing in 2004, which introduces marketing strategies in low growth markets, and co-authored a leadership book titled, Young Heart, Dream to the World in 2009 with other business leaders.
Lee began her presentation with an overview of Corning Korea. The company, which started over one hundred and sixty years ago, began with Thomas Edison and Pyrex. These days though, the company has expanded into many different fields, including producing glass for smart phones.
"Strong leadership is needed to become a global leader," she said. "And to be a good leader, there are four things you need to have."
One of the things that one needs to be a leader is to know how to motivate others and how to make the right judgment. Additionally, you need to focus on your strengths, especially when it comes to your expertise in a particular field.
"You should be a specialist and to spread the word about your expertise. You need to be curious and have passion about your job because an opportunity will come your way."
Without question, one of the important attributes of becoming a good leader is to have confidence. However, Lee pointed out that one does not "get confidence" without trying. She offered the analogy of skiing—if one wants to have more confidence as a skier he or she must try to ski down a harder course.
"You need to be challenged. That is one way to increase your self-confidence," she said. "Accomplishment is not success, not if someone can do the same thing. You should also be challenged, too. That is the real meaning of success."
Lee pointed out that doesn't have to be a big challenge, something that you can do to help build your self-confidence. What's most important, Lee said is the need to set goals for yourself—both short term and long term. She reminded students to keep thinking about how you can set your own goals.
"I wanted to be a leader when I was in my thirties," Lee said. "I don't know why I set that goal for myself, but I've become a leader."
Communication is also important to be a good leader, but Lee warned that these days Twitter and Facebook are not real communication.
"Real life communication is very important to be a good leader," she said. "It's all about give and take. To be a good communicator you need to have integrated thinking."
Finally, Lee stressed that another important aspect of being a good leader is being visionary; to see the big picture as it were.
"A good leader should see the future. You should have passion for yourself to understand more, to have knowledge, to have more information than others and then you will be more curious," she said. "Find your strengths and think about what you can do that separates you from others. You should always think about what you can do better."