Fall 2014 Commencement Held
Category : [2014]
|
Writer : 관리자
|
Date :
2014.12.14
|
Hit : 45,487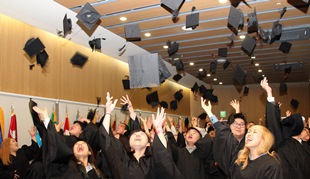 On a snowy December morning, SolBridge held its Fall 2014 Commencement Ceremony. Thirty-one BBA and twenty-seven MBA graduate designates took part in this most auspicious ceremony as this chapter of their life ends and another one begins.
---
Graduation from university is one of life's most memorable and defining moments. It is both a time of celebration and reflection as well as happiness and sadness as classmates, friends, and faculty say goodbye to the graduates.
We would like to wish all the graduates the best of luck in their future endeavors and to remind them, once a SolBridger, always a SolBridger.
Congratulations again graduates!