We are the Champions! SDS wins Korean Nationals Championship
Category : [2014]
|
Writer : 관리자
|
Date :
2014.11.14
|
Hit : 58,802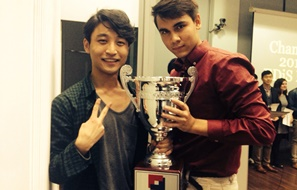 SolBridge Debate Society Brings Home Top Honors.
The SolBridge Debate Society (SDS) is now the reigning champions of Korea, after winning the 15th KIDA National Championships (KNC), held at Ewha Womans University in Seoul in early November.
---
This was the school's first national championship and the first time a university outside of Seoul has ever taken the trophy. After falling just one step short at the last KNC as runner-ups to Hanyang University, SDS has successfully taken that final step to become champions.
The KNC, which is the national championship for Korean universities, is the oldest and most prestigious intervarsity debating championship in Korea. The 15th KNC was hosted by Ewha Womans University and was attended by teams representing the top universities from Korea, including Seoul National University, Yonsei University, Korea University, Sogang University, Sungkyunkwan University, Hanyang University, Chungang University, Ewha Womans University, Kyunghee University, Hankuk University of Foreign Studies, Kyemeong University, and Kwangwoon University.
SolBridge was represented well at this competition, with our student Jaedong Jeong in the capacity of Deputy Chief Adjudicator and with a total of seven teams and seven judges attending the competition. Our student participants were as follows: SDS 1: Donald Felbaum and Minjae Kim; SDS 2: Jiwon Kwag and Taejo Kim; SDS 3: Hyunsoo Shin and Mirella Oliveira; SDS 4: Seungmin Jo and Andre Vasconcelos; SDS 5: Kapbi Han and Nala Lee; SDS 6: Yuwon Kim and Soohwan Kim; SDS 7: Jaeun Son and Arne Hansen. The seven judges included: Jaedong Jeong, Jiwoo Kim, Jaeduk Son, Yunji Choi, Doyoung Kim.
The competition was held in the British Parliamentary debating style, which features four teams competing against each other per round, with each team receiving a ranking corresponding to a certain number of points being won per round (1st = 3 points, 2nd = 2 points, 3rd = 1 point, 4th = 0 points) and each speaker receiving a score between 65-85. At the end of the preliminary rounds, the points are tallied to determine the top 16 ranking teams, which would move on to compete in the break rounds, with separate breaks being available for EFL and rookie teams.
The SolBridge Debate Society had a great start on the first night of the championship with five of our teams receiving 1st or 2nd place in Round 1 (with two other teams receiving 3rd). Although SolBridge's teams went through some ups and downs, the teams' success continued into Saturday, which featured four additional preliminary rounds. SDS dominated the break announcement—with a whopping four teams named in the main break, and one being named to the rookie break. SDS 1 was the 4th ranked team at the break, with SDS 2 at 10th, SDS 3 at 13th, and SDS 4 being named as a reserve breaking team. SDS 7, our rookie team, was the 2nd ranked rookie team at the tournament. While this result was amazing on its own, SDS 5 and SDS 6 were remarkably close to breaking as well, with SDS 6 having the same number of team points as the last breaking team, missing out because of lower individual speaker points (rankings are determined first by team points won in rounds, followed by how many individual speaker points each person receive).
In the elimination rounds, SDS 7 performed very well, competing against the best rookie teams in the Rookie Grand Final before yielding the title to a team from Korea University.
In the elimination rounds, where the top two teams from each room move onto the next round, SolBridge's SDS 2 went up against teams from Sogang University, Hanyang University, and Korea University in the Quarterfinal. That was when things got tough. After a hard fought round, they lost a contentious decision, with Sogang and Hanyang moving onto the Semifinals. SDS 1 and 3 were placed in the same room, where they competed also against Korea University and Kyunghee University. SDS 1 moved onto the Semifinals as the unanimous 1st ranking team, but SDS 3 lost a narrow decision for the 2nd ranking to Kyunghee University. In the Semifinals, SDS 1 again dominated the round, receiving a unanimous 1st place to march into the Grand Finals, where they faced Sogang University, Yonsei University, and Ewha Womans University.
Arguing against the motion "This House believes that university students should not participate in political demonstrations", SolBridge's SDS 1 put up excellent arguments regarding why university students are both qualified to make political expressions and are the right actors to be at the forefront of political change. At the conclusion of an extremely high quality round and a lengthy discussion among the 9-member judging panel, SDS 1 was crowned the new champions of Korea debate, holding off a fierce charge from Ewha in a 6-3 decision.
In addition, the teammates of SDS 1 capped off this win by also taking home individual honors, tying for the 3rd best speaker award.
Not only is this SolBridge's first (hopefully of many) championship at Nationals, it is the first time the trophy has been won by a university outside of Seoul. This triumph is undoubtedly the result of the institutional support that SolBridge provides to its students, allowing them to both succeed and fail, and ultimately learn and grow, via various international training and competitive events. By having the most number of teams to break along with the championship and individual speaker awards (not to mention judging accomplishments, including having a member in the Chief Adjudication Core), it can be said that SolBridge is currently the top debating institution in Korea.
While that status may change with the next Nationals, it is a remarkable achievement for a school and debate society that is so young to have attained the undisputed top status among Korean universities for debating supremacy.
Congratulations to the new champions, as well as all of the members who all played a huge role in making the SolBridge brand name shine at the national level.