Foreign Trade University's President Tuan visits SolBridge
Category : [2017]
|
Writer : SolBridge
|
Date :
2017.05.31
|
Hit : 24,552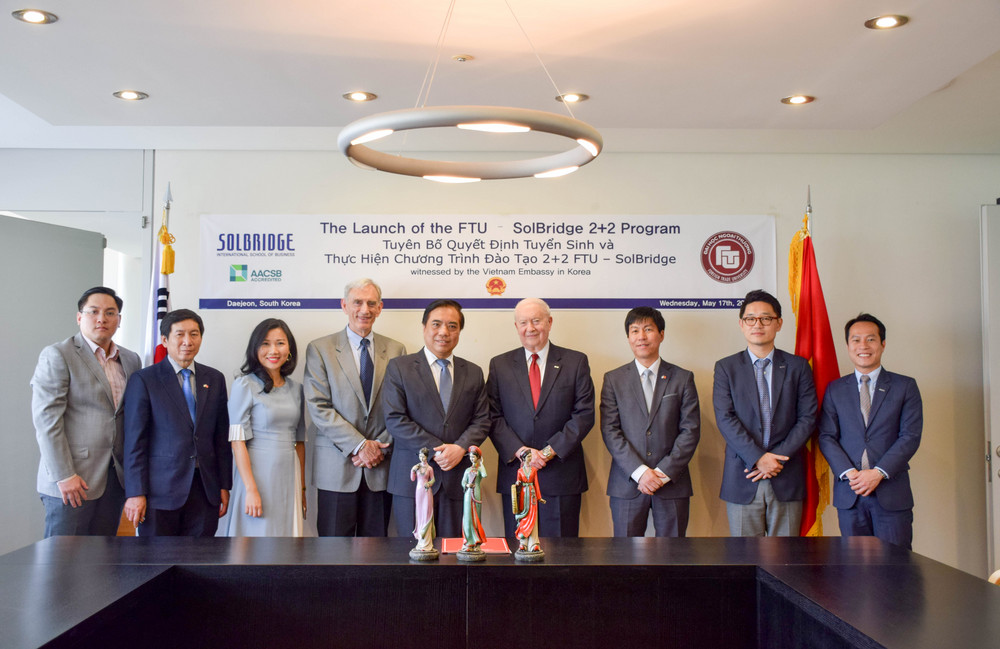 On 17th May 2017, President Endicott and Dean Rose were delighted to meet with their old friend, President Tuan from the Foreign Trade University (FTU). President Tuan and Dean Rose are former colleagues at the National Economics University in Vietnam where they worked hand-in-hand towards establishing one of the first executive MBA programs in Vietnam.
In the presence of Dr. Nguyen Hai Ninh, the Director for International Development, FTU and Special guests from the Vietnam Embassy in South Korea; Mr. Mo and Mr. Trung, SolBridge and FTU announced the launch of a 2+2 Program. Students can now study two years at SolBridge and two years at FTU for to acquire a dual degree. SolBridge and FTU share similar visions of strategic partnerships not only for the 2+2 program but also for MBA, exchange, and transfer programs.
Besides, Mr. Mo and Mr. Trung shared insight on the solid relationship between South Korean and Vietnam, regarding the economic and cultural exchange. They highlighted how the SolBridge FTU cooperation is a crucial contribution as students complete the programs, well-equipped with practical skills and trilingual ability (Vietnamese, English, and Korean). The students will have stronger preferences over other students who can only speak Vietnamese or Korean.
The delegates then met current Vietnamese students at SolBridge. Mr. Mo continued to enforce the idea of having multiple languages and getting hands-on experience. "Companies now look for people with skills rather than score and degree" he stated. President Tuan and Director Ninh were also impressed with the scale of Woosong University overall.
During their visit, they attended Woosong Sports Days Opening, Woosong Culinary Art Graduation Showcase and gave a special lecture "Current Business Environment and Korean Investment in Vietnam," They also had educational trips to Baejae Culture Land, Donghaksa Temple, and Geumsan Ginseng Town.