SolBridge Received a Kellogg Innovation Network (KIN) Award 2013
Category : [2014]
|
Writer : 관리자
|
Date :
2014.01.13
|
Hit : 46,271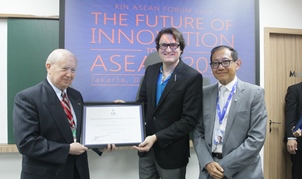 On Wednesday, 11 December 2013, SolBridge International School of Business received the Kellogg Innovation Network (KIN) Award 2013. The ceremony was held during the fourth Kellogg Innovation Network (KIN) ASEAN Forum 2013: the Future of Innovation toward ASEAN 2015 at the Philip Kotler Theater, Markplus Main Campus, 88 Casablanca Building, Jakarta, Indonesia. This event was attended by more than 100 scholars, business people, and students.
---
According to the committee, SolBridge was considered to be one of the higher educational institution in South Korea that is continuously innovating. Since the establishment of SolBridge in 2007, SolBridge has grown rapidly in terms of internationalization and innovative programs. Currently, SolBridge has about 700 undergraduate (BBA) and graduate (MBA) students. Interestingly, 80% of the students are international students coming from 35+ countries around the world. In addition, the faculty members are also from many countries.
Currently SolBridge is the only business school in South Korea that has a diversed international student body. Along with that, SolBridge has also developed a lot of innovative programs such as the Chief Executive Officer (CEO) Mentoring Program in which the students have an opportunity to be mentored by top CEO from both Korean and international companies. This is a good example of how a university works together with industries.
Prof. Rob Wolcott, the Co-Founder and Executive Director, Kellogg Innovation Network (KIN), gave the award to Dr. John E. Endicott, the Vice Chancellor of SolBridge International School of Business and President of Woosong University. During the ceremony, Dr. Endicott mentioned, "We are really honored to receive the award and will continuously work harder and better in year 2014."
"As the world is getting smaller, it is important for all parties to work together. ASEAN member countries has definitely played an important role in today's world. At the moment, 15% of our students come from ASEAN member countries such as Indonesia, Vietnam, Thailand, Cambodia, Malaysia, etc. In fact, those students are the best students in our university," he added.
Finally, this award made possible by a good collaboration between faculty, staff, and student members at SolBridge International School of Business.