Asian Case Study Competition Finals
Category : [2013]
|
Writer : 관리자
|
Date :
2013.12.19
|
Hit : 49,447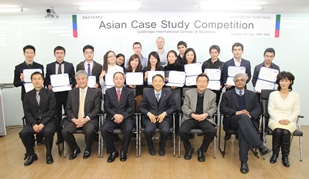 After weeks of grueling research, consultation with mentors, and meticulous preparation, the finals for the Fall 2013 Asian Case Study Competition were held in SolBridge.
---
Assisted by mentors with expertise in China, India, Indonesia and Vietnam, the students prepared case studies for each of those countries.
In the end, Leakhena Srey (Cambodia, MBA 1) Andrey Zaytsev (Russia, MBA 1) and Nikita Mailov (Russia) were the winners of this prestigious event. As part of the program, they will go to Indonesia in February.
Other winners included Haixing Zhang (China), Kiyal Bostonova (Kyrgyzstan) Xin Ye (China) and Shokhrukh Jobborov (Uzbekistan) who presented on China and went to China to participate in a Chinese case study competition after the end of the semester; Umidjion, Ulughbek Azimov, Tolipov Bekzod and Saidakbar Khasanov (all from Uzbekistan) who presented on India; and Nguyen Thi Nhu Quynh, (Vietnam MBA 1), Nguyen Thi Huong (Vietnam MBA 1) Yuri Kim (Korea) and Woomee Wang (Korea) who presented on Vietnam.
Finally, three students were awarded SolMileage Point Scholarships—So-hyun Kim (Korea) Jong-yeop Kim (Korea) and Xiaodi Wu (China) for their participation in numerous activities throughout the semester.
Our congratulations go out to all the winners and participants for making the competition this semester a successful one.