Fall 2013 CEO Mentoring Program Kicks Off
Category : [2013]
|
Writer : 관리자
|
Date :
2013.10.10
|
Hit : 49,422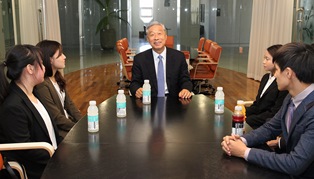 On Friday, September 27, the Fall 2013 CEO Mentoring Program got underway with an opening ceremony in the fourth floor auditorium followed by break-out sessions for the mentors and mentees.
---
Six former CEOs are taking part in the program this semester: In-shik Kim, currently a Board Member of the Ottogi Food Co. Ltd. and former President of Dongguk University Los Angeles; Il-jin Park, currently the Chairman of Latec Ltd and ENSUS Ltd. and the former President of Dow Chemical Company, Korea; C.C. Shin, advisor to Bankware Global in Korea and former CEO of LG CNS; Bong Tae Yoon, Corporate Advisor of GS Caltex Corp and former President of Qingdao Lidong Chemical Corp. in China; Myoung Woo Lee, currently a Hanyang University Professor in Marketing and the former President, CEO and Chairman of Sony Korea Corporation; and Myoung Ju Kang, currently Consumer Banking COO and Head of Private Banking, Standard Chartered Bank Korea Ltd and former President and CEO of Standard Chartered Savings Bank Korea Ltd.
Twenty BBA and ten MBA students will be participating in this semester's mentoring program. During this mentoring program, students will get first‐hand experience learning from experts from top global corporations within Asia. They will gain a fresh insight into the responsibilities of being successful business leaders and managers enabling them to be better equipped to deal with real life business decisions in their future professions.