Fall 2013 Clubs Expo – Something for Everyone
Category : [2013]
|
Writer : 관리자
|
Date :
2013.09.06
|
Hit : 54,503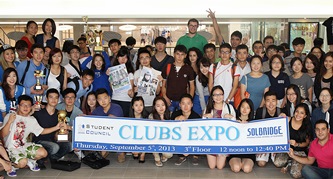 "Which club are you going to join?""I don't know yet. I'm thinking about the Sol-Connection Club and a new one this semester, the Billiards club. How about you?
"There are so many to choose from this semester, but definitely the SolBridge Debate Society and the Taekwondo Club."
---
This semester students could join a variety of clubs (eighteen) which run the gamut of interests and sports—from basketball, billiards and swimming to cooking, photography, and public speaking. Besides perennial favorites such as the SolBridge Debate Society, the Cheerleaders Club, and the Sol-Photo Club, this semester there were four new clubs including the Chess Club and the Sol-Interesting Club (which was created to encourage students to explore Korean culture) as well as the return of the Toastmasters Club.During lunch, the third floor was packed with students who visited each club's booth searching for the club which best matched their interests. While many students stayed with the same clubs they joined when they started SolBridge, other students took a chance with new ones.Although these clubs are extracurricular activities they are in tandem with the school's brand promise and mission statement. To be sure, in keeping with our mission statement of "educating the next generation of Asian Thought Leaders" the clubs and other activities students can join while they are here, deliver the personalized care that SolBridge endeavors to give students.
Check out more photos on our Flickr Gallery.