Are you up for the "Challenge?"
Category : [2013]
|
Writer : 관리자
|
Date :
2013.08.29
|
Hit : 47,449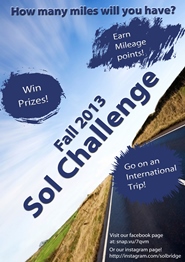 Sol Challenge is the SolBridge International School of Business's Student Service's special program which promotes soft skills through a variety of competitions held throughout the semester where students accrue "points/miles" for prizes and travel. Students get "miles" for participating in such events as Culture Day as well as competitions such as the International Market Research Competition or Rocket Pitch Competition (the winners of the International Market Research Competition automatically qualify for an overseas market research trip).
---
Please visit our Sol Challenge Facebook page for the latest news of competitions and events.