Moodle Workshop
Category : [2013]
|
Writer : 관리자
|
Date :
2013.08.28
|
Hit : 48,230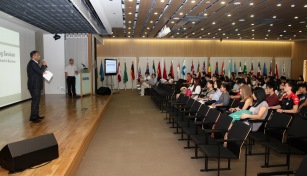 At SolBridge, students have many ways to stay in the know outside the classroom about the latest news around campus, our residence facilities, or what's happening in Daejeon via email, Facebook updates, Instagram and Twitter. However, to ensure that our students our continually "in the know" about what's happening in the classroom, a new management learning system, Moodle, was recently implemented at SolBridge.
---
Moodle, which is an acronym for Modular Object-Oriented Dynamic Learning Environment (now how many of you knew that?) is actually not new at SolBridge. It was used in the past but was not fully utilized. From the Fall 2013 semester though, Moodle will be the learning management system used by faculty and students.
In order to ensure that students know how to effectively use the system and maximize its potential, a special workshop was conducted by Dr. Tahir Hameed, Chief Information Officer and Dr. Bobby Swar on August 27, 2013 in the 4th floor auditorium. During the one-hour workshop students were instructed how to log into their profiles, how to edit their profiles, and how to submit assignments for grading.
Students experiencing problems with the system are reminded to visit the SolBridge IT Help Desk (Facebook Group)for help.