Three SolBridge Professors Selected as Honorary Envoys
Category : [2013]
|
Writer : 관리자
|
Date :
2013.03.09
|
Hit : 41,821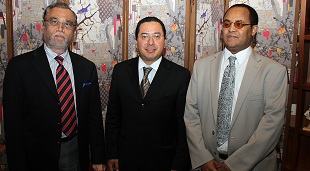 Recently, three SolBridge professors were appointed as Honorary Envoys by the Korean government for Korea's public diplomacy.
---
Professors Dilip Das,Tonatiuh Najera Ruiz,and Aye Alemu Mengistu were tapped for this most auspicious award which carries a one-year appointment. SolBridge was one of sixteen nationwide universities which had faculty members selected for this award. Hankuk Univeristy of Foreign Studies was first with 4 appointments, Woosong (SolBridge) was second with three, then Seoul National, Dong-A, Konkook, Ewha, Korea, UINIST, Yonsei, KAIST, and Pukyong University with one each.
"I am delighted and congratulate all three of our finest and hope that next year additional colleagues will be so honored," said Dr. John Endicott.
We would like to wish Professors, Das, Ruiz, and Mengistu all the best!