The Woosong Educational Foundation
The Woosong Educational Foundation is the umbrella organization of various educational institutions highly committed to the educational development of South Korea though innovation and specialized knowledge. Through its core values of independence (i.e. spirit of self-reliance), righteousness (i.e. upright mind and moral will), and goodness (i.e. devotion to integrity and practice), it aims at educating the next generation become wise, sincere, and courageous.
The History
A Sea of Inspiration: A Young Man and His Dream
The story of the Woosong Educational Foundation may be traced back to the time when a young Korean man once met the commander of a ship on his way to Japan. The long and tiring journey seemed less taxing whenever he had the chance to speak to the ship captain. He learned something new every time. The ship master made his living by trading seafood with other countries. For him, the lack of natural resources in both Japan and Korea naturally encouraged their citizens to engage in international trading. Educating the people to do business was important for the successful economic development of a nation. In his own words: "This ship may be built in one year, but it takes twenty years to train a good captain." The young Korean man looked far into the wide sea and, once alone, in solitude and freedom, he formulated his own dream: "Developing Korean society through education."
The Dong-A Pencil Corp.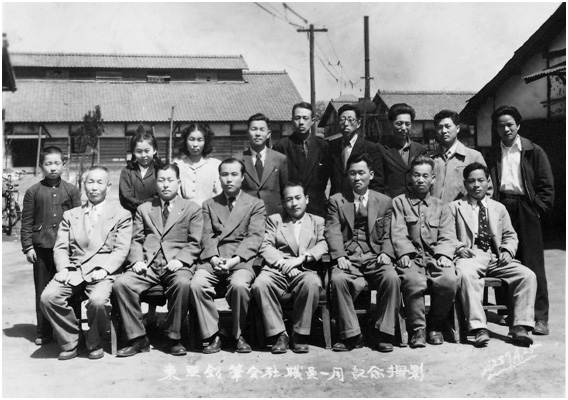 Dong-A Pencil Company: 1948 – the location where SolBridge stands today.
Dr. Jung-Woo Kim is the fourth person from the right in the first row.
The young Korean man, Dr. Jung-Woo Kim, returned to his home country after completing his studies in Japan, and founded the Dong-A Pencil Corp. in 1948, the first stationery manufacturer in Korea. He believed that the supply of pencils to students would support their education. He worked hard to develop the company and provide high quality educational materials to all Koreans. Unfortunately, when the Korean War (1950-53) broke out, the factory was destroyed and the company went bankrupt.
The First Steps
The war left the country in very poor conditions. Compared to other cities in Korea, Daejeon was one of the worst. Elementary schools were overcrowded and in deteriorating conditions, and many Koreans did not dream of completing their studies, being more concerned with making ends meet on a day-to-day basis. Dr. Jung-Woo Kim established the Woosong Educational Foundation in 1954 and a commercial high school thereafter in order to teach practical and transferrable skills to the young generation. This was a meaningful transformation from a stationery business to an educational foundation. According to Dr. Kim, young Korean men and women at the time were capable of and in desperate need of technical knowledge more than intellectual knowledge as getting a job was their priority. Rebuilding the Korean economy through education was a must for Dr. Jung-Woo Kim.
"Woosong" derives from a combination of two words, "woo" and "song." "Woo" means "eternal and constant," and "song," "pine tree" in Korean. It was Dr. Jung-Woo Kim's nickname and reputation: "an eternal and constant character, strong like a pine tree."
The Woosong Educational Foundation established Woosong Middle School and Woosong Commercial High School in 1954; Woosong Technical College and Woosong Information College in 1963; and Woosong University in 1995.
The First Leap towards Becoming Business Experts in Asia
SolBridge International School of Business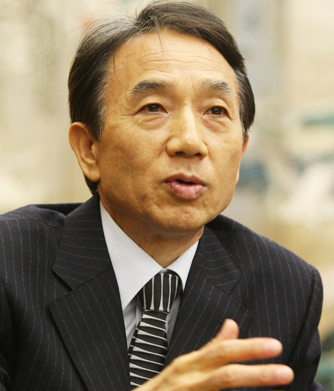 Sung-Kyung Kim, Ph.D.
Chairman of the Woosong Educational Foundation
"Sol" or pine tree is significant in Korean culture. It symbolizes longevity, virtue, strength, and wisdom. It is with these important values in mind that the Woosong Educational Foundation, based on 62 years of history and pride, established SolBridge International School of Business in 2007. Our objective is to foster global talent that can support our future society. SolBridge has been assisting young, talented individuals reach out to the world from its beginning.
SolBridge International School of Business consistently strives for excellence and the highest of standards. In order to fulfill the Woosong Educational Foundation's goal of "fostering creative professionals that lead the global society," SolBridge emphasizes creativity, flexibility, and critical thinking in a challenging environment.
SolBridge graduates, who have been educated by business experts and professors from different parts of the world, are successful, active participants in the global workforce. As the students of SolBridge pursue knowledge with classmates from over 30 different countries, they naturally come to respect different cultures and understand cross-cultural differences. In addition, the international network created at SolBridge serves as a solid foundation for our students to be global leaders of the future.
I am confident that the ability, knowledge, and inspiration to grow into future global leaders are fostered here. The Woosong Educational Foundation, together with SolBridge International School of Business, is ready to serve you as a stepping stone to becoming a business expert, not only in Korea, but throughout all of Asia and beyond.