SolBridge Lecturer Featured in Korean War Documentary
Category : [2012]
|
Writer : 관리자
|
Date :
2012.06.06
|
Hit : 51,379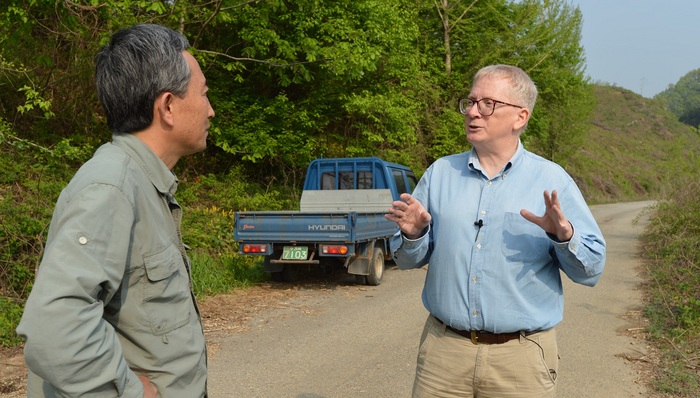 When SolBridge Lecturer and Web Manager Jeffrey Miller wrote his first novel, War Remains a novel about the Korean War in 2010, he hoped it would make the public aware not only of one of the lesser known battles of the conflict but also the ongoing search for war remains.
---
Later this month, Miller's efforts will reap benefits again when his book as well as his commentary on the war is featured in an MBC documentary about the conflict. The documentary will air on MBC on June 26.
"From 2000-2003, when I was a feature writer for the Korea Times, I had the chance to write about many of the commemorative events which took place on the peninsula," Miller said. "In 2009, when I sat down and started to write my novel, I based parts of it on some of the interviews I had with Korean War veterans."
One of those veterans Miller interviewed in 2001 was Oscar Cortez who recalled one lesser-known battle of the conflict which was fought north of present-day Hoengseong. The battle, which was fought in the middle of February 1951, proved costly to UN and South Korea forces, but was overshadowed by another battle about twenty miles away a few days later. That's when Miller decided to write about this particular battle in his novel.
"Everyone knows about Inchon, Pork Chop Hill, and Panmunjom, but how many people know about the Battle of Hoengseong?" he asked.
Earlier this year, Park Jongwoo, a Korean photographer and filmmaker happened across Miller's book and contacted him regarding a documentary he was making on the Korean War—specifically the battle which Miller described in his book as well as the ongoing search for war remains.
"We met through a mutual Facebook friend," Miller said. "My friend on Facebook had read my novel and shared it with Park."
A few messages, emails, and a meeting with Park at SolBridge later, Miller was on his way to Wonju and Hoengseong in early May to film his scenes talking about the battle—in some instances walking on the same ground where the battle was fought in Massacre Valley north of Hoengseong.
"This was my second trip to the area. I first came here in November 2010, prior to my book being published," Miller said. "Although it is one of the few battlefields of the war that people can visit, sadly, very few people know about it."
Finally, last month Park and his crew visited SolBridge and finished the interview with Miller. Although his role in the documentary is a small one, Miller was honored to take part in it as well as being able to represent SolBridge.
"It was an honor to be a part of this project and to play a small part in the documentary," he said, "not to mention representing SolBridge as part of our school's pillars, which include our community and network service."