Faculty and Students from Universitas Ciputra Visit SolBridge
Category : [2012]
|
Writer : 관리자
|
Date :
2012.06.06
|
Hit : 44,014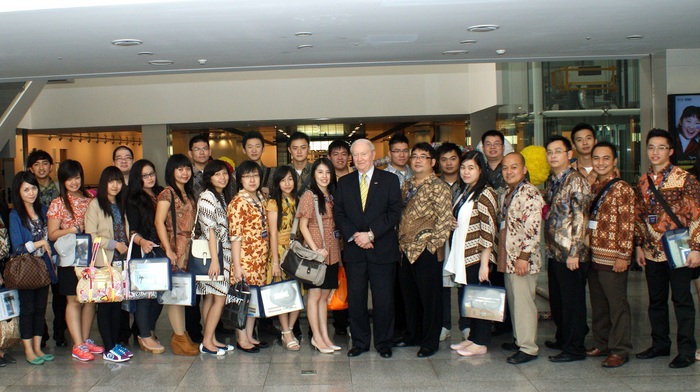 From June 4-11, seven lecturers and twenty-two students from Universitas Ciputra (UC) in Indonesia are visiting SolBridge as part of SolBridge's Business Insight Program.
---
During this week-long program, the lecturers and students will participate in academic sessions of a real business university, learn from world-class scholars, get to know university students from other countries, learn more about the cooperation between the world of academia and business, and learn about how Korea, as one of the fastest growing economic powers in the Asia as well as the world. Part of their program includes a two-day Industrial Tour of POSCO, Hyundai Heavy Industries, and Hyundai Motors as well as cultural tours.
Universitas Ciputra is a university that was started by Indonesian entrepreneur Dr. Ir. Ciputra, Chairman of the Ciputra Group. This Surabaya-based school, which is located in Ciputra's own suburban satellite city Citra Raya, is far from the town's buzzing atmosphere and is the perfect place to study, all the while harboring the "Spirit of Excellence" of the group. To be sure, Universitas Ciputra's goal is to create a study place that is full of integrated entrepreneur values.
SolBridge welcomes the lecturers and students from Universitas Ciputra and wishes them a most insightful and rewarding experience while they are here.