Lieutenant General John D. Johnson
Category : [2011]
|
Writer : 관리자
|
Date :
2011.12.17
|
Hit : 62,951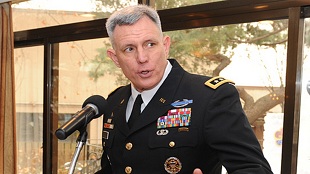 Leadership can be defined any number of ways, but when it comes to leadership in today's ever-changing business world, tomorrow's business leaders need to be self-reflective according to Lieutenant General John D. Johnson, Commanding General, Eighth U.S. Army.
---
"We need to look back at ourselves and make sure what you want to be," Johnson said to a standing-room only audience in the fourth-floor auditorium on September 22, 2011. "Then, set up a goal and spare no effort to go after it."
As part of SolBridge's Platinum Lecture Series, one of the school's important infrastructure pillars, Johnson keyed in on his own experience coming to Korea and the importance of adaptation to whatever current situation a person finds one's self in—whether it's being the commander of an army or working in a company. To illustrate the importance of adaptation, Johnson drew upon his own experiences serving in Korea and the importance of understanding and overcoming cultural differences in order to be successful in whatever one does.
Johnson also had some advice for students who might wonder how they can shape and hone their skills learned at SolBridge to have that competitive edge once they enter the workforce. In short, not everyone can be outstanding in what they do without effort in the ever-changing and competitive business world.
"Being a leader is not easy," Johnson concluded. "It's not only assigning what you need to be done by others, but also requires us to be critical, wise, and most importantly, organized."