Dr. Aye Mengistu Wins Top Honors at the 2011 Anna World Congress and Expo
Category : [2011]
|
Writer : 관리자
|
Date :
2011.12.17
|
Hit : 60,174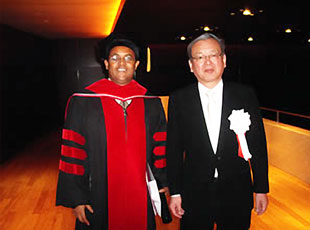 In the first week of December 2011, Dr. Aye Mengistu won top honors for his paper, Quality of Institutions and FDI Inflow: Evidence from Asian Economies at the International Conference on International Business, Finance, Marketing & Management Research for the 2011 Anna World Congress and Expo, which was held in Chennai, India.
---
Although no stranger to presenting at an international conference or having one of his papers selected for top honors, Mengistu was particularly honored because he recently finished his first semester teaching at SolBridge.
"Being that I am new to SolBridge, winning was another joy for me as well as my institution," he said.