Sol-Seniors Night: Celebrate the Moment
Category : [2012]
|
Writer : 관리자
|
Date :
2012.11.11
|
Hit : 91,582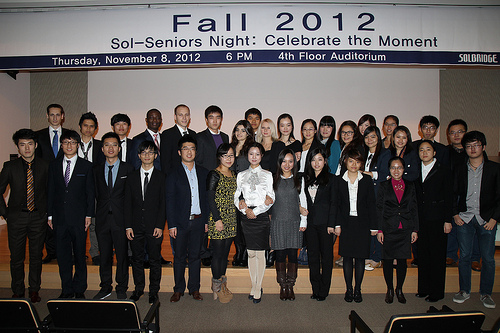 With graduation less than a month away, thirty-three BBA and MBA students, who are expected to graduate at the end of this semester, were treated to a special evening at SolBridge with the second Sol-Seniors Night.
---
This event, which started in the Spring 2012 Semester, is held to prepare prospective graduates for graduation. During the two-hour event, the students look back on their time at SolBridge, vote for special awards (which are awarded on graduation day) and have a special dinner with faculty members. In addition, the BBA and MBA valedictorians (see separate story) are announced.
Dean Yong-wook Jun got the festivities going with a brief overview of the SolBridge experience for the students, reminding them that once they leave SolBridge, they will forever carry memories of their time spent here—especially the personalized care they received on their way to becoming the next generation of Asian Thought Leaders.
After the valedictorians were announced, the students voted for their classmates who best exemplify GACCS (Global Perspective, Asian Expertise, Creative Management Foundation, Cross-cultural Competence, and Social Responsibility) as well as an overall Asian Thought Leader award. These awards will be presented before the graduation ceremony on December 10.
Finally, the students and members of the faculty who joined in the celebration were treated to a special dinner in the Sol-Bistro. It was a chance for both students and faculty to enjoy this special night and celebrate the moment together.
If you're really interested in this event, please follow our SolBridge Flickr Page