2+2 Agreement with IFE, Mongolia
Category : [2012]
|
Writer : 관리자
|
Date :
2012.11.19
|
Hit : 65,303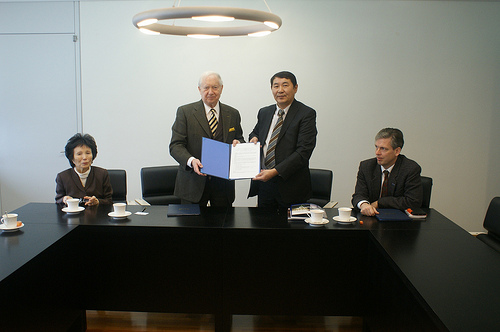 The Institute of Finance and Economics in Ulaanbaatar, Mongolia and SolBridge International School of Business recently signed a cooperation agreement for a joint degree program. SolBridge's President John Endicott and IFE's Vice President Javan SukhBaatar signed the new agreement on Friday November 16 in a small ceremony held at SolBridge. This new agreement will allow IFE students to complete two years of study at their home university and finish the last two years of their BBA study at SolBridge and thus allow them to obtain both degrees, one from IFE and the other from SolBridge.
---
Since its inception in 1924, the institute of Finance and Economics has offered exception educational programs. Originally named the School of Custom's Officers this private institution of higher education has gone through several name changes to better reflect the programs it offers. Its current name was used after the introduction of post-graduate courses in 1997. Today IFE offers is one of Mongolia's largest educational institution and offers both bachelor's and master's programs. Many IFE students go on to become business and political leaders. One notable alumni from IFE is Yumjaagiin Tsedenbal who was the leader of the People's Republic of Mongolia from 1952 to 1984. Not satisfied to rest on its past achievements IFE continues to strive to become a better school. An example of this is IFE was accredited in 2012 by the Accreditation Council for Business Schools and Programs (ACBSP).