Call for Applications; Fall 2019 Intake
Category : [2019]
|
Writer : SolBridge
|
Date :
2019.04.01
|
Hit : 41,200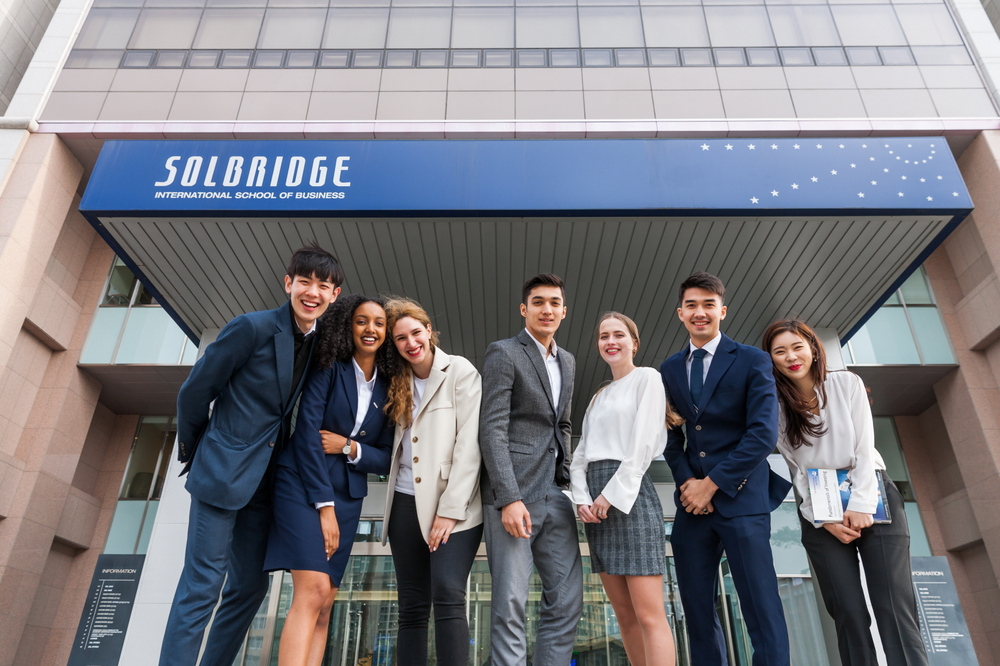 SolBridge International School of Business is now accepting applications for Fall 2019 intake. Apply now and join our diverse community from over 55 countries. SolBridge has a rolling admission period, and applications are evaluated on a case-by-case basis taking into account the applicant's academic records, English proficiency, financial status, personal essay, extra-curricular activities, and letters of recommendation.
Academic Programs
In the international community that is Solbridge, students have a truly multi-cultural learning environment and gain practical marketable skills.
Master of Business Administration (1 year)
SolBridge has restructured its MBA program from a two year to a one year program. The program provides a unique blend of strong foundations and practical skills.
Master of Science in Marketing Analytics (1 year)
SolBridge has introduced a new program in Marketing Analytics designed for recent graduates with a strong interest in marketing.
Bachelor of Business Administration (4 years)
Students may specialize in Marketing, Finance, Management, and Entrepreneurship.
Minimum Requirements;
Proof of English proficiency, such as the IELTS or TOEFL iBT (not required if you graduated from a high school located in a country where English is the official language). You must bring the original copy after receiving admissions from SolBridge.

Copy of passport (photo page)

List of extracurricular activities and awards

Personal essay – this is a handwritten, 1,000-word essay that describes a changing moment or significant event in your life that guided you to make business your career choice.

Proof of finances – a bank statement that confirms the possession of US$ 18,000.00 in your bank account.

Original transcripts

Original degree certificate/diploma

Letters of recommendations – One letter of recommendation for BBA applicants and two letters for MBA and MSMA applicants

Resume or CV (only for MBA applicants)
Scholarships
Tuition scholarships are limited, competitive, and cover only tuition fees. Scholarships will be awarded for a one year period for BBA applicants, and a one-semester period for MBA and Ms in Marketing Analytics applicants. In addition to the admission scholarships, MBA and MSMA applicants will receive a Future Leadership Scholarship. All applicants must have a minimum GPA of 3.75/4.5 to qualify for a Merit-Based Scholarship following the completion of their initial scholarship cycle.
Tuition scholarships are awarded on the basis of academic performance, personal essay, letter(s) of recommendation, extra-curricular activities, transcripts, admissions interview, and the application form itself. Applicants awarded a scholarship must still demonstrate sufficient proof of personal finances to enter SolBridge.
Application Deadline
Admission is selective and students are urged to apply as early as possible to ensure sufficient time for application review, visa application, and moving preparations. Deadline for Fall 2019 semester is June 30, 2019.