Graduation Ceremonies Held
Category : [2012]
|
Writer : 관리자
|
Date :
2012.01.06
|
Hit : 18,490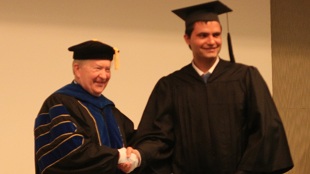 On December 12, 2011, SolBridge held its sixth commencement ceremony conferring MBA and BBA degrees on twenty-five students.
In his opening address, Dr. John Endicott, President of Woosong University, reminded graduates and others in attendance of the significance of studying at SolBridge and all the hard work that goes into the degrees they receive.
---
"You have had excellent training from a very solid faculty. You have been placed in competitive situations, practiced team work and come out leaders," Dr. Endicott said. "Remember, leaders also know when to accept guidance of the group. That has also been part of your Solbridge experience."
He also wished graduates well and reminded them of their moral obligation as graduates of SolBridge.
"Let us make a reputation for Solbridge that will serve as a beacon for the world. Yes, we will be competitive alright and we will be thought leaders Asia," he said. "But we will hold high moral values that our chairman and his father espoused since the creation of Woosong Foundation in 1954."
During the ceremony Dean Yong Wook Jun gave a short presentation on some of the achievements made by SolBridge the past semester including institution, faculty, and student recognition. One of the school's major accomplishments this past semester was completing the first round of getting AACSB (Association to Advance Collegiate Schools of Business) accreditation. Additionally, the school has received international recognition and domestic recognition, including an article the Korea Economic Daily Newspaper.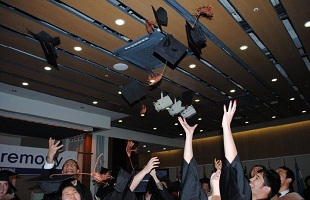 The Dean also singled out accomplishments made by faculty members and students including Dr. Aye Mengistu's recent honors at an international conference in India as well as the continued success of SolBridge's premier debate team, DeBridge.
In one of two valedictory addresses, Sandy Nguyen Thanh Tra talked about all the hard work that went into reaching this milestone today and what it has meant to her studying at SolBridge.
"SolBridge has brought to me such an amazing learning environment," she said. "We are the winners of innovation and creation."
In her inspiring valedictory address, Thanh reminded all the graduates that they should be proud of the history they have created at SolBridge the same way students who attend such universities as Harvard.
"The spirit of Solbridge will be with us forever," she said in closing.
Congratulations to all our BBA and MBA Graduates.