Astonishing Experience from NSU Asian BP 2011 held in Dhaka, Bangladesh
Category : [2012]
|
Writer : 관리자
|
Date :
2012.01.05
|
Hit : 21,063
"Yes, it is not a world trophy, but it means life for us.
We present to you the trophy of NSU Asian BP 2011"

Quote by convening committee during the opening ceremony at the Asian British Parliamentary debate tournament held at the North South University (NSU) in Dhaka Bhagladesh, December, 2011
---
During December 2011, the DeBridge debate team from the SolBridge International School of Business attended the Asian British Parliamentary 2011 debate tournament (known as Asian BP). The event was held in Dhaka Bangladesh, and is part of an established circuit of events that allow competitive teams to sharpen their preparation prior to competing at the annual Worlds University Debating Championship (WUDC), one of the largest international student events in the world.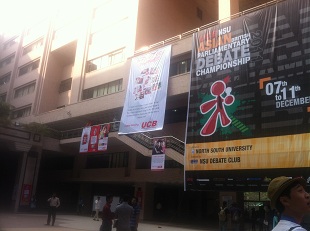 Although founded in 2009, the Asian BP tournament has quickly attracted a great number of leading Asian institutions, not only for the purpose of preparing teams for upcoming WUDC tournaments, but also to distinguish and create Asian Champions. The DeBridge team is a relative newcomer having entered the international debate scene in 2010. In their short history, the DeBridge team has established their reputation for effective and competitive debate skills, placing well at the Korean Nationals in 2011, and also at the ongoing North East Asian Open tournaments in the region. The Asian BP showcased the DeBridge skills and expertise and showcased their presence as the team to watch, an observation confirmed when DeBridge ranked the highest amongst all North East Asian participants in Dhaka.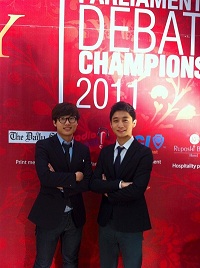 At these events, networking is also an extremely important activity. The Asian BP provided opportunities for DeBridge members to meet with representatives and administrators from many leading universities in Asia as well as fellow debaters and panels of adjudicators. Through this event, DeBridge has been able to form close relationships with Christ University in Bangalore India, the North South University in Bangladesh, Universiti Teknologi Mara in Malaysia, the National University of Singapore, the International Christian University from Japan, the Binus International University, Indonesia and more.
Overall, the Asian BP 2011 has provided numerous benefits to the DeBridge team in their representative role for the SolBridge International School of Business. DeBridge has signaled to the debate world that it is a serious contender with talent, poise and preparation, ready to challenge the champions. Through these opportunities, DeBridge would like to express great gratitude to the SolBridge International School of Business for their continuing and generous support.