DeBridgers Leave Their Marks in the Korea National Debate Championship
Category : [2011]
|
Writer : 관리자
|
Date :
2011.11.05
|
Hit : 52,691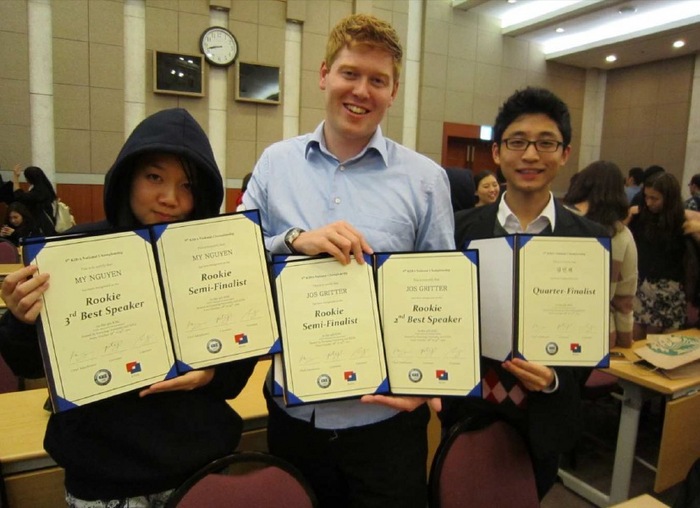 The 9th KIDA (Korean Intervarsity Debate Association) National Championship (KNC) was held in Hangyang University in Seoul, from October 28th-30th. This time, the SolBridge Debate Squad: DeBridge was among the most actively participating debate societies by sending five teams, four adjudicators, and one Deputy Chief Adjudicator (DCA) to the tournament.
---
More than that, we were able to represent the international student body of SolBridge by having the most unique squad in the whole competition comprised of Korean, American, Indonesian, Dutch, Georgian, and Vietnamese students.
By putting our shoulders to the wheels, we accomplished many major awards. In the rookie league, DeBridge had one team enter the semi-finals winning 2nd and 3rd best speakers while in the varsity league, one team broke into the quarter-finals. Additionally, five adjudicators were chosen to judge the semi and grand-finals for the rookie, varsity, and EFL leagues. DeBridge coach, Sarabeth Trujillo, who was also the DCA of the tournament, successfully cooperated with other Korean debate societies to organize the KNC.
It was only the second time for the SolBridge Debate Squad: DeBridge to compete in this nation-wide debate competition between 160 debaters of 80 teams from leading universities in Korea. Thus, it is noteworthy that the SolBridge Debate Squad as a fairly new team gained this success competing against traditional powerhouses such as Yonsei University, Korea University, and Seoul National University, which have debaters who have debated since middle school or high school. Furthermore, the achievements made by SolBridge Debate Squad were unprecedented from universities outside of Seoul. That shows how symbolic and meaningful the DeBridge accomplishments were, which have left a strong impact on Korean debate communities.
DeBridgers all say, "We build bridges through debate" and this was quite evident at the recent Korea National Championship. The gap between universities as well as the gap between nationalities were all narrowed down this time. Thanks to the effective education and continuous support from the SolBridge International School of Business, DeBridge coaches, Joshua Park and Sarabeth Trujilo and all DeBridge members for making the impossible possible.
This is just the beginning. Stay tuned for more amazing success in the future from the SolBridge Debate Squad: DeBridge.