Our Diversity Makes Us One: Culture Day 2014
Category : [2014]
|
Writer : 관리자
|
Date :
2014.11.11
|
Hit : 47,256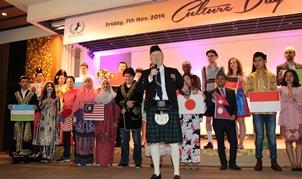 Once a year, SolBridge has the chance to strut its stuff upon the stage; in this case, to celebrate the cultural diversity at the school which makes the school one.
---
On a late Friday afternoon and early evening following midterms, our multi-cultural study body took time out from their studies, projects, papers, presentations—even CEO mentoring—to showcase their cultures to the study body, faculty and staff. For days students from Korea, Russia, China, Uzbekistan, Indonesia, Japan, Kazakhstan, Vietnam, Thailand, and Kyrgyzstan, prepared their dance and song routines—sometimes practicing late into the night.
On the day of the event, other students from Korea, China, Uzbekistan, Norway, Russia, Germany, Vietnam, and Kazakhstan took over over the second floor cafeteria and cooked some of their country's traditional dishes.
Culture Day 2014 started with a food festival on the second floor and proceeded to the fourth floor auditorium with special performances by students, which also included a special demonstration by SolBridge's Taekwondo Club and a parade of nationalities.
Without question, SolBridge's Culture Day is one of the highlights of the semester and one that students, faculty, and staff all look forward to each year. Even our President, Dr. John Endicott donned traditional Scottish garb—a kilt—to celebrate his Scottish roots.
SolBridge's Culture Day would not be possible without the hard work done by our Student Council. The outgoing President Stephany Yanac and her fellow council members all deserve a big hand for all their hard work for making this year's Culture Day such a huge success!
Now as students get ready for finals in a few weeks and finish all their papers and projects, memories of Culture Day will serve to remind them what makes studying at SolBridge a very special and unique experience.