Distinguished Alumni Homecoming
Category : [2014]
|
Writer : 관리자
|
Date :
2014.10.29
|
Hit : 47,248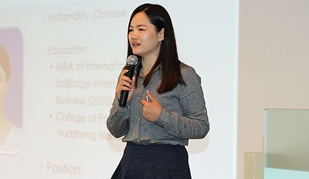 As part of the Woosong Educational Foundation's sixtieth birthday celebration, five SolBridge alums were invited back to their alma mater to share their experiences with students and faculty.
---
The purpose of the Distinguished Alumni Home Coming program is to provide students with first‐hand experience by learning from Distinguished Alumni who have had Academic Achievements, Successful Job Placements after Graduation from Top Global Corporations. The program aims to provide students a special opportunity of being mentored by Distinguished Alumni of SolBridge.
This year, one Korean and four International Distinguished Alumni of SolBridge International School of Business took part in the event to share their experiences and successful stories to prospective graduates and students: Ha-jin Lee (Korea, 2013), Hu Die (China, 2012), Agnus Susan Joshua (India, 2013), Saken Saduakhassov (Kazakhstan, 2012) and MD. Imam Hossain (Bangladesh, 2012). Ms Lee is currently the General Secretary for the International Go Federation, Korea; Ms. Ms. Die is working at Wuhan Donghu University; Her position is International Exchange and Cooperation Director; Ms. Joshua is a Business Process Manager for LG Chem Ltd., Korea; She is working in LG Petrochem Ltd., India; Mr. Saduakhassov is employed by Pantos Logistics of the LG Group as a Kazakhstan Project Team staff member; and Mr. Hossain works for the Daedok Lab Company as the Halal Coordinator for Overseas Sales and Marketing. He is Overseas Marketing Team Leader.
The program consisted of three events: A "Discovering Career Path" lecture where the students shared their work experiences with students and what students should focus on while studying at SolBridge; lunch with President Dr. John Endicott, Vice President BB Hwang, Dean Kim, Professors, and Participating Prospective Graduates, and finally a brief mentoring workshop for prospective graduates. Alumni met with students and discussed more detailed topics; students were also able to answer particular questions about finding employment once they graduate from SolBridge as well as specific information about how to be successful in their own countries.
In line with SolBridge mission "to educate the next generation of Asian Thought Leaders", the program fostered knowledge of encouraging and motivating leadership skills, organizing skills among students of SolBridge (both Korean and international). It is SolBridge's hope that by sharing the experience of Distinguished Alumni with students, students will gain knowledge, direction, and desire to study more and more to be successful graduates and business leaders.
As such, it will enable prospective students to be better prepared to deal with real life business decisions in their future careers.
For more information about SolBridge's Career Development Center, please visit our website.