Kazakh and Russian Executives Network with Students
Category : [2011]
|
Writer : 관리자
|
Date :
2011.04.22
|
Hit : 41,274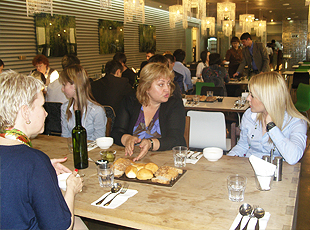 Russian and Kazakhstan academics and business executives networked with SolBridge students to create a "little Russia and Kazakhstan" night.
On April 20, the SolDoree Bistro became a 'little Russia and Kazakhstan' with academics and business professionals networking and meeting up with students who will be completing their BBA or MBA studies from SolBridge International School of Business. The academics and business professionals came from Karaganda Economic University, Kazakhstan University of Economics, Finance and International Trade from Kazahstan and Vladivostok State University of Economics and Service and various companies from Russia were represented.
---
SolBridge graduating students presented themselves to the guests who are in Korea for a professional development course. This is the second time that Russian academics and business executives have come to Daejeon for the SolBridge Executive Course. The benefit these executives obtain from their brief but powerful trip is the chance to learn about doing business in Korea and Asia, the Korean technological advantage, and to experience some of the Korean culture.
Graduating students received valuable advice from these professionals about job finding strategies as well as obtaining information about higher education within their home countries. The networking evening gave the students a taste of home to be able to connect with Russians and Kazakhs speaking in their mother tongue which is so familiar tor them all. The only thing missing to make it a totally Russian evening was some Russian food since the dinner menu was from Italy – spaghetti. This reflects the 'multicultural nature' of what makes SolBridge a unique institution in Daejeon and in Korea.