"MOU Signing ceremony"- Dhaka University and Woosong University
Category : [2015]
|
Writer : SolBridge
|
Date :
2015.05.28
|
Hit : 15,660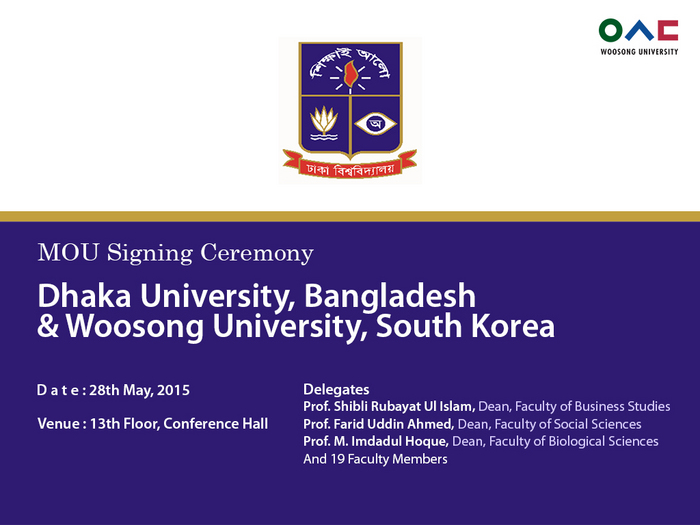 Dhaka University & Woosong University join hands
Dhaka University in Bangladesh, referred to as the "Oxford of the East" had visited SolBridge International School of Business, Woosong University on 28th May, 2015. It was a delegation of 22 members which included 3 Deans as following, Prof. Shibli Rubayat Ul Islam (Faculty of Business Studies), Prof. Farid Uddin Ahmed (Faculty of Social Sciences), Prof. M. Imdadul Hoque (Faculty of Biological Sciences) and 19 other Faculty. We had Dr. John Endicott, President of Woosong University, Vice Chancellor of SolBridge and Mr. BB Hwang, Vice President of Administration along with few of our faculty members to represent Woosong University.
The purpose of the visit was to explore possible academic cooperation, experience the facilities, and discuss likely collaborations. To mark their visit, we signed a General MOU between the universities and any further activities in particular will be described in a separate agreement which will be discussed and finalized as required.
Since their offerings are in 100% English, we look forward to start off with a dual degree program with their Business studies department and SolBridge which is our compatible offering. Sol International School (SIS) could also be very potential as Dhaka University has similar courses within their 77 established departments. After a campus tour at SolBridge, a tour of Nursing department (Sol Hospital) at the Woosong West Campus was also accomplished. Another prospective cooperation could be in terms of Faculty Exchange as it would promote and contribute with teaching methods from different perspectives!
We are thrilled to discover our mutual capabilities and move forward together!