Dean Park's Message to the Recent Graduated Class of 2021
Category : [2022]
|
Writer : SolBridge
|
Date :
2022.02.15
|
Hit : 8,356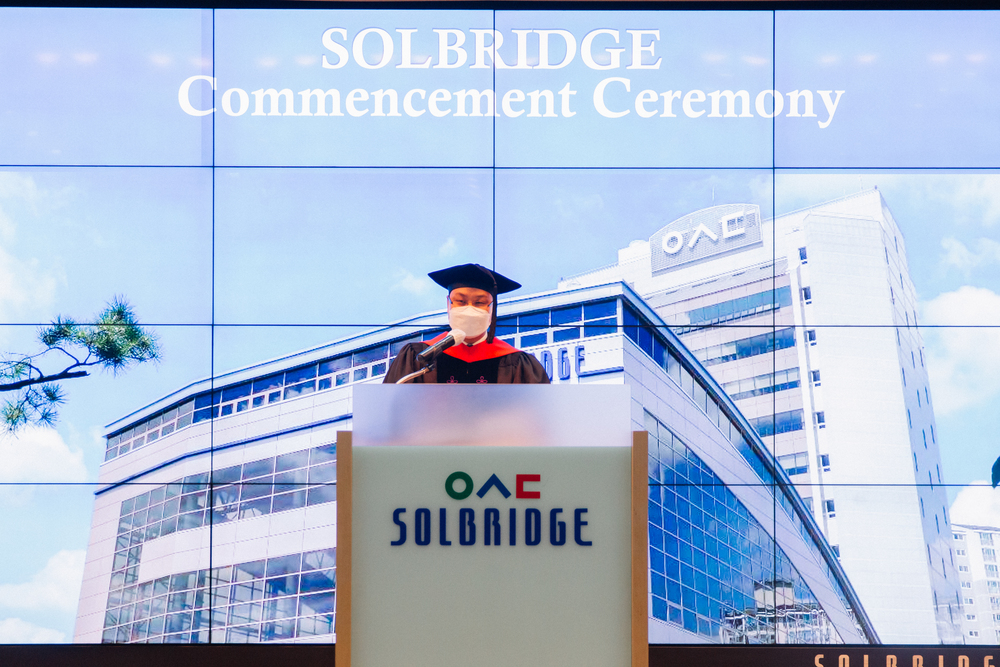 "On behalf of everyone at SolBridge, I offer the graduating class of Fall 2021 the heartiest of congratulations.
I so very much wish that this ceremony could have been with all 112 of you here with us in this auditorium, being applauded by family and friends, with flowers, hugs, tears, and laughter being exchanged in abundance. But not being able to do so does not make this occasion any less special. In this ceremony, we will do our utmost to reflect how proud we are of your remarkable achievements.
The past two years have been tumultuous, with COVID-19 profoundly altering each one of our lives. It calls to mind the quote from the French mathematician and philosopher Blaise Pascal, who said: "Man is but a reed, the weakest in nature." You may feel fragile and helpless, like a flimsy reed. And such feelings of fragility may come not only when struck by a historically catastrophic event such as this pandemic, but also when you are faced with more mundane challenges: like finding a job, getting into a graduate school of your choice; or unforeseen difficulties in terms of health, finances, illness or death of a loved one. Even as you exult at the successful completion of your time at SolBridge, you may be feeling a bit daunted by the new phase in life that is opening before you, that seems to be filled with pitfalls and uncertainties.
But I'd like you to embrace yourselves as "reeds", taking note of the second half of Pascal's quote: "Man is but a reed, the weakest in nature, but is a thinking reed." The Mission of SolBridge is: Nurturing the Next Generation of Asian Thought-Leaders. As graduates of SolBridge, you're no ordinary thinking reeds. You are Thought-Leader reeds equipped with GACCS: Global Perspective, Asian Expertise, Creative Management Foundation, Cross-cultural Competence, and Social Responsibility.
Then what does it mean to be a GACCS-equipped reed?
Two things.
For one, it means you are creative and adaptive, traits that are especially salient in these times. While stubborn, oak-tree-like individuals and institutions that refuse to adapt suffer failure and collapse, you have adapted and innovated, as reeds would sway and bend themselves amidst a windstorm. You adapted to online/hybrid classes, took part in remote internships and international workshops and competitions, and were able to socialize, make friends, and have fun even amidst social distancing limitations. And these qualities and shared experiences, along with the business competence you gained through our rigorous AACSB-accredited coursework, will make you the most unique Thought-Leader reeds we have graduated.
But secondly, GACCS-reinforced reeds are a part of a uniquely diverse, supportive, and thriving SolBridge community. No matter how flexible a reed may be, it still is subject to being trampled if it stands alone. But when bound together, a stack of reeds gains strength and stature. That is us: the "SolBridge reed-stack." Please do not think that you are leaving this community when you graduate. Don't let go of the friendships you've made with your fellow classmates, bonds you have built with your professors—make a real effort to stay in touch (and not just when you're looking for a reference letter). Take advantage of our alumni network; we are in the middle of building a new alumni directory to help connect you with many of our successful graduates from around the world; please add yourself and take full advantage. Keep in touch with our Career Development Center when you're looking for another job or just need career advice. The SolBridge reed-stack community, the SolBridge family, will always be here for you, as you all should be there for each other."
Prof. Joshua Park
Dean of SolBridge International School of Business